'A Black Lady Sketch Show' Comedy Series Renewed For Season 4
Creator Robin Thede says she's "ecstatic" to be returning for a fourth season.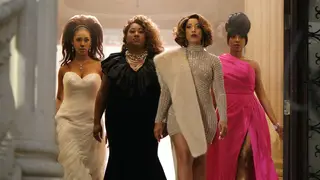 HBO has renewed A Black Lady Sketch Show for a fourth season, according to Variety.
"'A Black Lady Sketch Show' has created an indelible mark thanks to the trust and support of the incredible team at HBO," said Thede, making the announcement, according to Variety. "We are ecstatic to be heading into a fourth season that means so much to our cast, crew and the dedicated audience who so passionately loves our show."
In addition to Thede, the series also stars Gabrielle Dennis, Ashley Nicole Black and Skye Townsend all of whom "brought so much life to each character they portrayed in every sketch," noted Amy Gravitt, EVP of HBO Programming.
"We're beyond excited to explore even more comedic worlds with a fourth season of 'A Black Lady Sketch Show,'" Gravitt added.
The series has had some highly notable moments including in 2021 when its editors Daysha Broadway, Stephanie Filo and Jessica Hernández won the Emmy for outstanding picture editing for variety programming making them the first team of women of color to win the coveted award.
The series was also nominated for an outstanding variety sketch series Emmy in its first two seasons.
The third season just wrapped up with dozens of celebrity guest stars, original music, and hilarious choreography. All three seasons of A Black Lady Sketch Show are now available to stream on HBO Max.