Louisiana Woman Dies After Her Hair Gets Stuck In Airport Belt Loader
Jermani Thompson was unloading luggage when the accident happened. But authorities must now figure out what went wrong.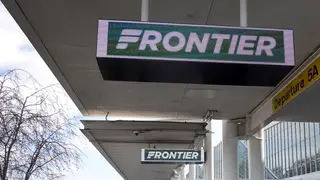 A tragic incident at the airport in New Orleans left one woman dead and her family shocked and in disbelief at the freak accident that caused her death
Jermani Thompson, 26,  was working as a baggage handling supervisor at Louis Armstrong New Orleans International Airport on the evening of Aug. 30 and was unloading luggage from an arriving Frontier flight. But just before 10:30 p.m., her hair got tangled in the machinery of the belt loader. She was sent to the hospital and died due to her injuries.
Thompson worked for. GAT, a company that does ground services for airlines, according to local station WWL.  How the accident happened is unclear and the Jefferson Parish Coroner's Office will reportedly be performing an autopsy within the next few days as part of the investigation. 
WWL obtained a copy of the GAT employee handbook, which says that long hairstyles "should be worn pulled back" off of the face and neck. It is not clear how Thompson was wearing her hair at the time of the accident. Company CEO Mike Hough did not respond when asked how strictly the policy is followed, but had previously said GAT would "never prioritize on-time performance above safety."
Kevin Dolliole, Director of Aviation for Louis Armstrong New Orleans International Airport, said in a statement to WDSU, "We are deeply saddened about the tragic loss of GAT Airline Ground Support team member, Jermani Thompson. The Louis Armstrong New Orleans International Airport extends its sincere condolences to her family and friends, and also to our partners at GAT and Frontier Airlines."

Dolliole also added, "Jermani was a part of our Airport family, and we will continue to support one another in any way we can during this trying time."
Angela Dorsey, Thompson's mother, told NOLA.com that her daughter was an athlete who played basketball in high school and college. She also earned a sociology degree from Tougaloo College in Mississippi.
"She loved basketball," Thompson said. "She was my baby girl. Everybody loved her. "I'm just lost for words… I can't even think."
Nichole Branch, Thompson's sister-in-law, said to NOLA.com that the family has questions about how this happened, "She went to work one morning and never made it home. This is just so unreal right now."