Girl, Please! Farrah Abraham Won't Date Black Men and Shades the Kardashians
The reality star turned porn star is at it again.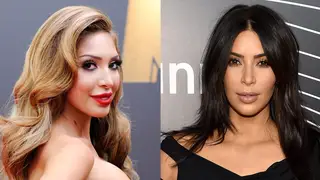 Farrah Abraham is at it again.
The reality TV / porn star, who made headlines for involving her daughter in a feud against Nicki Minaj, is taking aim at the Kardashians this time around, with some racist comments about their taste in men.
During a visit to the Allegedly podcast, the Teen Mom OG star was asked if she dates Black men. Her response raises eyebrows to say the least.
"Would you ever bang a lot of brothers?" host Cole Weiss asked Abraham.

"Brothers? What does that mean? Brothers? I have no brothers," she responded.
"No, no, no. A lot of Black guys," Cole Weiss clarified. "Are you into Black guys or not? I just ask everybody."
After giving it some thought, Abraham responded: "I'm really not into Black guys. I think that's more of a Kardashian thing. God bless them. … I think there's a lot of attractive Black men." 
Keep up with the latest Kardashian dating rumors with BET Breaks, above.