Kendrick Lamar's 'Alright' Should Be The New Black National Anthem
K Dot's To Pimp a Butterfly song is today's "Lift Every Voice And Sing."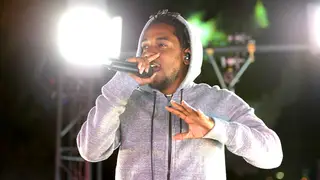 For the past 96 years, "Lift Every Voice and Sing" has been universally considered the Black national anthem. Written by author/activist James Weldon Johnson and set to music by his brother John Rosamond Johnson, the uplifting hymn was officially anointed an ode for colored people by the NAACP in 1919. It's had an incredible run, but as Sam Cooke once sang, change gon' come. It's time for an updated theme song for Black folks. That song is Kendrick Lamar's "Alright." Hear me out.
One of the few vibrant moments on the Compton lyricist's spanking-new album To Pimp a Butterfly, "Alright" doesn't fit the traditional, gospel-toned standard. There's profanity. The word "n***a," exactly 19 times, although it feels like 90*. But this record is rooted in spirituality. Struggle. Optimism. It's both current and timeless, reiterating the steely strength of Black endurance: At the end of the day [Cam'ron voice], God's got us. We gon' be alright.
Barring the rapped verses, "Alright" is an evolved version of "Lift Every Voice and Sing," fortified by an additional century of Black rage and resilience. K Dot's opening lines, brimming with pride, are, "Alls my life I has to fight, n***a." That's how the song starts! What Black person in America can't relate? From there, it's all togetherness. Pharrell's ridiculous "New Black" pseudo philosophy is forgotten once you hear his simple, awesome, repetitive hook: "N***a, we gon' be alright." Rinse and repeat, times eight. It has to be said and heard, especially in a time when Black people continue to exist on the wrong end of employment statistics, incarceration rates and police aggression.
"Lift Every Voice and Sing" is peaceful and passive, but it's time for an anthem with a bit more bite. Imagine this bridge, chanted in unison:
Wouldn't you know
We been hurt, been down before, n***a
When our pride was low
Lookin' at the world like, "Where do we go, n***a?"
And we hate po-po
Wanna kill us dead in the street for sure, n***a
I'm at the preacher's door
My knees gettin' weak and my gun might blow
But we gon' be alright
!!!
It's angry, reflective and real, but never loses that hopefulness. Plus a bonus dab of Malcolm X's "By any means necessary" mentality, for good measure. Because during the Eric Garner era, how many of us are questioning whether to reach for a Bible or a Beretta?
Musically, "Alright" is as Black as black soap. Pharrell and Sounwave's breezy bounce and little drummerboy snares, Terrace Martin's epic brass, Thundercat. It's got that bounce! You can lift one singular Black power fist, or lift both, bend your elbows, bob your shoulders and do hip hop's favorite turn-up dance. Multipurpose music!
Johnson's anthem has rang from Black church pews and soundtracked HBCU formals for decades; it'll never lose its place in history as our unifying rally call. But let's appoint a new ode for the new millennium. Alright? Alright.
*Per Kendrick's suggestions on the outro of "i," "n***a" shall be replaced with "negus," the Ethiopian root word that indicates royalty, for the purposes of this anthem.
See Black Hippy at the 2015 BET Experience. Get your tickets here.
The opinions expressed here do not necessarily reflect those of BET Networks.
BET.com is your No. 1 source for Black celebrity news, photos, exclusive videos and all the latest in the world of hip hop and R&B music.
(Photos from left: Mike Windle/Getty Images for Reebok)