Kroger Security Guard Fired Following Accusations Of Racially Profiling And Assaulting Black Women
He allegedly assaulted one and yelled racially insensitive remarks at another.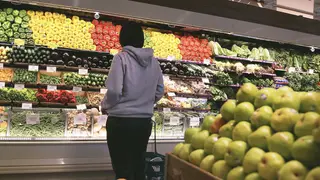 In Houston, Texas, a security guard at Kroger is facing accusations of assaulting and racially profiling Black women.
According to Fox26, three Black women were allegedly subjected to the horrible actions of the guard on three separate occasions.
All three encounters, including one in which it appears the guard is dragging a woman by her hair, were captured on video.
On June 21, Shelondra Peavy recorded her interaction with the Allied Universal security guard at Kroger.
She stated that she couldn't carry any more merchandise in her hands. She dropped a few of her items in a clear produce bag as she continued her shopping trip. It was then that the security guard stopped her and accused her of stealing. In the video, the guard can be heard calling Peavy "Black and ugly."
Two months prior, Stephanie Teel, a Black woman with special needs, had her own encounter on April 13 at the grocery store.
Stephanie was with her cousin, Kamela Sterling, who opened up a burger and began eating it. Sterling says she had intended on paying for the burger when she got to the register. The security guard approached the two women, resulting in an altercation and eventually the guard pepper-sprayed and dragged Stephanie from the store.
Sterling returned to the store the next month and recorded another interaction with the guard. The guard followed her from the store and can be heard asking her if she had something in her bag.
Community activist, Quanell X, says, "he should be terminated and also should be arrested."
X and Doctor Candice Matthews (Executive Director at the Children of Diversity Foster Adoption Agency in Houston) went to Kroger to speak with the guard.
"Baby, it's about to get ugly," Matthews said. "Because we're bringing the hammer of accountability all the way here to this Kroger, and you're going to lose your job."
None of the women involved were charged with shoplifting or any other wrongdoing. The guard, whose name has not been released by Allied Security, has since been fired.