'America in Black': The Plan To Erase Black History Forever
See which states are passing laws that could prohibit the truthful teaching of American history.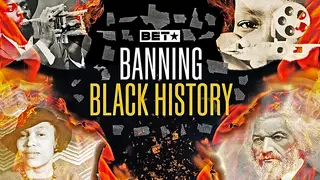 One of the most controversial topics being argued across the political aisle today involves state law makers and politicians who have combined efforts to ensure that African American history courses stay out of the classroom. Across the nation, historians, educators, parents, and others are protesting that Black history deserves to be taught and not just relegated to one month of the year. University of Buffalo professor LaGarret King is the director for the Center for K-12 Black History and Racial Literacy Education. He believes that teaching Black history is important because it allows children to see humanity in each other.
At last count, 44 states have started debating whether to introduce bills that would limit what schools can teach about race, American history, gender identity and sexual orientation. Critical Race Theory (CRT) is the thing that intimidates them so. The concept explores the idea that racism isn't just the byproduct of bias, hate and discrimination but also embedded in the legal, political, and sociological framework of this country. As a result, Advance Placement Black History courses are being water downed to accommodate this perpetual insecurity that the truth may be exposed to those who don't already know it or simply cannot handle it.
BET And CBS News have collaborated on "America In Black," a  one-hour, primetime newsmagazine premiering Feb. 19 on BET, BET Her and VH1 that will have a segment that carefully examines the censorship of Black history. 
Here's a look at those states that have stopped debating and successfully taken steps to outright ban Black history and Black culture in their curriculum (including some that are on the brink of getting bills passed). And since we're all about supporting Black History, we also included  a little-known fact about each state's controversial past with African Americans, seemingly the very thing that is being erased. 
Alabama – Ban in Progress

LET'S TALK ABOUT IT: Republican State Representative Ed Oliver halted a bill that would require a semester-long African-American history course be included in the public school curriculum, for children in K through 12th grade. The lessons would naturally include reviewing the history of slavery in America but would also teach students about the important contributions Black people have made in this country. Nonetheless, Oliver is convinced that coursework that focuses on race and gender would teach "divisive concepts" like the United States is "inherently racist or sexist."

BUT REALLY THOUGH: In 1861, Montgomery, Alabama had more slave depots than they had churches.  A century later, the state already notorious for a history of racial terror and lynchings, became known as one of the most segregated places in the country. It was there that Dr. Martin Luther King Jr. was arrested for standing up in peaceful protest against injustice and put in solitary confinement. Nonviolent protestors, like King, fighting for segregation's end, were doused by high pressure fire hoses and mauled by police attack dogs.

Arkansas- Banned

LET'S TALK ABOUT IT: An executive order from Gov. Sarah Huckabee Sanders characterizes Critical Race Theory (CRT) as "antithetical to the traditional American values of neutrality, equality, and fairness."  CRT, it says, "emphasizes skin color as a person's primary characteristic, thereby resurrecting segregationist values, which America has fought so hard to reject." But of course, as a parent if you'd like to teach your children about African American contributions, the state's government gives you permission, as if you needed it.

BUT REALLY THOUGH: Part of the history that the state wants to keep hidden, includes the Elaine Massacre on September 30, 1919, which is known as one of the bloodiest race riots in U.S. It started when some 100 African Americans, mostly sharecroppers, met at the Progressive Farmers and Household Union, to discuss getting better pay for their cotton sales.  As a. result, about 200 Black people were killed by white mobs over the course of several days. U.S. troops were eventually called in, and the mob finally dispersed on October 2.

Florida - Banned

LET'S TALK ABOUT IT: Well, well, well, there's a lot going on in the Sunshine state. In 1994, when Florida mandated that African American history be taught, Ron DeSantis was a teenager in the state's public school system. Today, Florida is counted among several other states that have banned public schools from teaching Critical Race Theory. DeSantis, now the state's governor, is arguably the loudest anti-CRT spokesperson. He is also one of the biggest critics of the College Board's proposed Advanced Placement African American Studies course, saying "we want education, not indoctrination." DeSantis believes the AP course violates his Stop WOKE Act, that prohibits any instruction that defines people as necessarily oppressed or privileged based on their race. To please the governor and other conservatives, the College Board has since watered down the curriculum, removing content related to Black Lives Matter, and Black feminist writers and scholars associated with Critical Race Theory, like bell hooks, Columbia law professor Kimberlé W. Crenshaw, and Ta-Nehisi Coates.

BUT REALLY THOUGH: While Nikole Hannah-Jones' 1619 Project documented the arrival of enslaved Africans to America's colonies, slavery in Spanish-controlled La Florida, predates their arrival by about 100 years. By the time the American Civil War began, 50% of Florida's population consisted of enslaved Africans. We were the primary labor force of the cotton plantations and endured inhumane treatment working the sugar plantations. Nearly 80 years after President Abraham Lincoln signed the Emancipation Proclamation into law, the U.S. Sugar Corporation was still using enslaved Black people to work their sugarcane fields, as recently as 1942.

Georgia- Ban in Progress

LET'S TALK ABOUT IT: Early last year, Georgia lawmakers introduced four bills that would ban teaching material that might cause "guilt, anguish, or any other form of psychological distress."  By April, Governor Brian Kemp signed a new law that bans teachers from teaching students about race and racism. The governor-appointed state board of education concurred, adding that they believe "the United States of America is not a racist country, and that the state of Georgia is not a racist state." According to the text, HB 1084"prevents divisive concepts and ideologies from invading the classroom."

BUT REALLY THOUGH: Many white Georgians were less than happy, back in 1868, when there were 152 African American schools in the state, many on par with segregated white schools. They worried that educated Black people wouldn't want to continue working as fieldhands or domestic workers, so they destroyed the schools and its textbooks. After the Civil war, there were not enough schools to accommodate most rural Black children, but then-Governor Allen Chandler let his strong disapproval of the Black race be known, adding that the education of Black people was "not appropriate."

Idaho- Banned

LET'S TALK ABOUT IT: Republican Governor Brad Little, signed a law, in April 2021, that would control how teachers discuss race and gender in the classroom, banning what has been identified as Critical Race Theory. Part of the legislation says that teaching CRT only, "exacerbate and inflame divisions on the basis of sex, race, ethnicity, religion, color, national origin, or other criteria in a way contrary to the unity of the nation and the well-being of the state of Idaho and its citizens." One of the bill's sponsors, Representative Ron Nat, who believes CRT is "rooted in Marxist thought," compares CRT to a metastatic cancer.

BUT REALLY THOUGH: The African Americans that lived in Idaho in the early 1900s were a small but mighty group, active in civil rights from the start. In fact, their activism has been credited for inspiring others around the country. Black Idahoans were counted among those who protested the racist Birth of a Nation film when it appeared in Boise and Pocatello in 1916. Black activists in Idaho held a sit-in in 1919 to protest a segregated restaurant. Unfortunately, little change occurred as Black neighborhoods in Idaho were overcome with prostitution, gambling, and liquor stores. Dan Everhart, the Outreach Historian for the Idaho State Historic Preservation Office, says, those operations were allowed to grow and "were not discouraged as they would have been in a predominantly white neighborhood, because the powers that be believed the citizens there were less valuable, so why not have these vice industries there as well."

Iowa- Banned

LET'S TALK ABOUT IT: In 2021, Governor Kim Reynolds said, "Critical race theory is about labels and stereotypes, not education." So, she signed a bill that would stop coursework about "sexism, slavery, racial oppression, racial segregation, or racial discrimination, including topics relating to the enactment and enforcement of laws resulting in sexism, racial oppression, segregation, and discrimination" from being included in school curricula and any mandatory diversity, equity, and inclusion training for governmental agencies.

BUT REALLY THOUGH: By 1820, Congress passed the Missouri Compromise, a law that made slavery illegal in the Louisiana Purchase area, which included Iowa. But newfound freedom didn't mean that African Americans were welcomed to become Iowan residents. The state's Black Code, including the Act to Regulate Blacks and Mulattoes, which made life continuously difficult. As a result, African Americans were not allowed to vote, serve in the military, or testify in court against a white person. Their children were not allowed to get an education in Iowa's schools and legislators went as far as making interracial marriage illegal, as well.

Kentucky-Ban in Progress

LET'S TALK ABOUT IT: Although Senate Bill 1 does not come right out and cite CRT, the Kentucky bill has been dubbed the anti-critical race theory, by some. It states: "that the institution of slavery and post-Civil War laws enforcing racial segregation and discrimination were contrary to the fundamental American promise of life, liberty, and the pursuit of happiness, as expressed in the Declaration of Independence, but that defining racial disparities solely on the legacy of this institution is destructive to the unification of our nation."

BUT REALLY THOUGH: On January 25, 1865, the Simpsonville Massacre occurred when about 80 Black men from the 5th United States Colored Infantry Regiment, formerly enslaved men turned soldiers, were ambushed by Confederate militia. The men were driving hundreds of cattle along a trail, with no idea of what lie ahead. After the onslaught, the dead Black soldiers were buried in mass graves by locals. Many of those who survived became a part of the Buffalo Soldiers.

Louisiana-Ban in Progress

LET'S TALK ABOUT IT: The Baton Rouge Magnet High School in Louisiana is one of 60 schools around the country testing out the new Advanced Placement course on African American Studies. While the classes will touch on profiles of Marcus Garvey and Malcolm X and discuss the Caribbean inspired Négritude and Negrismo literary movements, students will not be allowed to learn about more modern concepts like Black Lives Matter or slavery reparations. The latter two topics have been deemed as "divisive" by some politicians, who also believe that introducing these subjects into the school system is some big political ploy.

BUT REALLY THOUGH: The 1868 Opelousas Massacre, one of the bloodiest incidents of racial violence during the Reconstruction Era, was also an early example of voter suppression. It's estimated that anywhere between several dozen to several hundred Black residents were killed at the hands of angry white citizens who wanted to intimidate the new Black voters, who were now empowered to alter the political dynamics in the state after the Civil War. The killing rampage lasted for several weeks. The dead were thrown into shallow graves.

Michigan-Ban in Progress

LET'S TALK ABOUT IT: Senator Lana Theis, who chairs the Senate Education and Career Readiness Committee, sponsored a bill that she hopes will "prohibit the radical critical race theory agenda from spreading falsehoods to our children about the origins of our country."  Senate Bill 460 and its companion, House Bill 5097 is said to "seek nothing more than the true teaching of our country's history in our schools, warts and all. It does not allow outright lies, and history taken out of context to brainwash our children against America."

BUT REALLY THOUGH: In March 1863, two months after President Lincoln's Emancipation Proclamation was enacted, white mobs in Detroit violently attacked the city's Black community, killing at least one Black man and leaving hundreds of Black people homeless, their homes destroyed by fire. They were angry, in part, because of the growing number of free Black people who were migrating into the city. 

Missouri-Ban in Progress

LET'S TALK ABOUT IT: At the beginning of 2023, at least six bills prohibiting "discrimination in education" had been filed. Critical Race Theory instruction for children in kindergarten through 12thgrade is now banned. One of these bills, filed by Sen. Andrew Koenig, prohibit schools from teaching lessons on the role of systemic racism in the United States. But a spokesperson for Missouri's National Education Association affiliate sees it differently. "We want students to understand the complete history of our country, good and bad, so they can learn from the past to solve today's problems." Take note that there were no Black senators serving on the Senate Education and Workforce Development Committee when the bill was heard.

BUT REALLY THOUGH: In 2017, the NAACP issued a travel advisory, warning people of color that their civil rights could be violated if they come to the state, adding that, "race, gender and color based crimes have a long history in Missouri." Tory Sanford's recent death in a local jail is reason for concern in and of itself. The NAACP believes there is a sign of "looming danger" for POC in Missouri. The organization says that 75 percent of African American drivers in the state are more likely to be stopped than white drivers. Sanford, who had run out of gas and was lost when he was arrested, is counted among them.

Montana -Ban in Progress

LET'S TALK ABOUT IT: Montana Attorney General Austin Knudsen believes that critical race theory programs violate state and federal anti-discrimination laws. As a result, he says in a statement, "Montana law does not tolerate schools, other government entities, or employers implementing CRT and antiracist programming in a way that treats individuals differently on the basis of race or that creates a racially hostile environment." Lessons on racial segregation, race stereotyping and race scapegoating, violate state and federal civil-rights laws, says Knudsen, "because they constitute racial harassment and/or require authority figures to engage in activities that result in different treatment on the basis of race."

BUT REALLY THOUGH: After the Civil War, many Black settlers flocked to Montana to find a better life. They hoped to create a safe space by establishing a community where families could easily connect with Mother Nature. Instead, African Americans in Montana were systematically forced out of the state due to the economic decline brought on by the Great Depression and the infestation of the Ku Klux Klan.

New Hampshire- Banned

LET'S TALK ABOUT IT: A "divisive concepts" law has been put in place to supposedly prevent teachers from educating their students about discrimination. The problem is that many teachers say they have received little to no guidelines from the Department of Education and don't know where they should draw the line. A spokesperson for the Manchester NAACP says the law has created an environment where teachers are afraid to even mention the word "race" in their classrooms.

BUT REALLY THOUGH: Most people don't know that it was enslaved Africans, who endured the Middle Passage, who helped make Portsmouth, New Hampshire a prestigious Atlantic seaport. These same Black people were buried in a segregated cemetery, near the outskirts of town, that was eventually paved over.

Ohio-Ban in Progress

LET'S TALK ABOUT IT: House Bill 237, would prohibit the teaching of any "divisive concepts," forbidding lessons that insinuate that the United States is fundamentally racist or sexist, or has issues related to discrimination, race and sex stereotyping. Protestors of this new bill say this is nothing more than censorship.

BUT REALLY THOUGH: In 1904, a white mob broke into the Springfield city jail, carried away prisoner Richard Dixon, who was accused of fatally shooting an arresting officer, and handed the group's own level of punishment; lynching. Although the mob of over 1,000 people assembled outside the jail for the better half of a day, local authorities never called for backup from the military. Not even on the next day, when riled up and ready for destruction, the mob broke out into three groups and burned down several blocks of saloons owned by African Americans.

Oklahoma- Banned

LET'S TALK ABOUT IT: Sometimes referred to as anti-CRT bill (although there is no overt mention of Critical Race Theory in the text), House Bill 1775was passed in 2021. Counted among the eight banned concepts defined in this bill, is a message for teachers. There is to be no mention that "an individual, by virtue of their race or sex, bears responsibility for actions committed in the past by other members of the same race or sex," and should avoid lessons that would make anyone "feel discomfort, guilt, anguish or any other form of psychological distress on account of their race or sex." Oklahoma Senator Nathan Dahm has, however, filed a bill that would ban CRT from being implemented statewide.

BUT REALLY THOUGH: Two years ago, we commemorated the 100th anniversary of the Tulsa Race Massacre. In 1921, an angry mob of white men burned down the prosperous Black community of Greenwood, also known as Black Wall Street, over a two-day period, supposedly because of a claim that a white woman was assaulted by a Black man in an elevator. Witnesses say that private planes were used to rain bombs down on buildings. An estimated 1,500 homes and 600-plus businesses were destroyed and approximately 10,000 people were left homeless.

Pennsylvania-Ban in Progress

LET'S TALK ABOUT IT: It must have felt like a gigantic leap forward, a victory even, when, 15 years ago, Philadelphia mandated that high school students enroll in African American history as a requirement for graduation. But the rest of the state appears to be lagging. In fact, Representative Russ Diamond recently introduced a bill that would limit how teachers can teach about racism and sexism.

BUT REALLY THOUGH: In 1838, over 10,000 white people organized to destroy Black schools, churches, meeting halls, and printing presses. After years of African American fundraising to establish Pennsylvania Hall, a national center for abolitionism and equal rights, it was also destroyed. Shortly after this destruction and violence, white Pennsylvania politicians wrote the state's constitution, excluding free African Americans from the right to vote.

Rhode Island-Ban in Progress

LET'S TALK ABOUT IT: Rhode Island State Representative Patricia Morgan co-sponsored a bill to ban the teaching of the critical race theory in public schools. The bill was meant to prohibit the "teaching of divisive concepts" as well as mandate that "any contract, grant or training entered into by state or municipality include provisions prohibiting divisive concepts and prohibit making individual feel distress on account of their race or sex."

BUT REALLY THOUGH: In 1831, white rioters attacked the Providence neighborhood of Snowtown until no visible traces of the neighborhood remained. It was said there were shouts of "Kill every Negro you can! Many of the residents of Snowtown, were the children born to enslaved women who were freed once they reached adulthood per the Gradual Emancipation Act of 1784. Denied work in the growing manufacturing industry, these free Blacks worked as domestic servants, carpenters, or seamstresses. A Snowtown research committee member says, "These were people who were not considered worthy of being counted." Today, railroad tracks cover where the community once sat.

South Carolina-Ban in Progress

BUT REALLY THOUGH: South Carolina passed the Negro Act of 1740, a "bill for the better ordering and governing of Negroes and other slaves in this province." Enslaved African people were restricted from growing their own food, learning to read, moving about freely, assembling in groups, or working to earn money. It also authorized white enslavers to whip and kill enslaved Africans for being "rebellious."

Tennessee- Banned

LET'S TALK ABOUT IT: Last April, a Tennessee bill passed the House requiring students in grades five through eight to learn about Black history and culture. But what about the other grades? In 2021, Gov. Bill Lee signed a bill into law that restricts what public school teachers can discuss in Tennessee classrooms about racism, white privilege, and unconscious bias. This means no discussion on "the United States [as] fundamentally racist" or that "a person is inherently privileged or oppressive due to their race."

BUT REALLY THOUGH: During the American Civil War, African American federal troops were killed by Confederate soldiers, in what is now known as the Fort Pillow Massacre of 1864. It's said that Southerners were outraged that the North would use Blacks to fight against white soldiers. A federal investigation later found that Black troops were massacred after surrendering. Today, Fort Pillow is a Tennessee state park.

Texas-Ban in Progress

LET'S TALK ABOUT IT: Governor Greg Abbot signed into law Senate Bill 3 to replace House Bill 3979, saying more needs to be done to "abolish" Critical Race Theory in the state's schools. This new law means that teachers cannot require students to read the New York Times' 1619 Project.

BUT REALLY THOUGH: The Texas Rangers, a Department of Public Safety agency, were initially formed as law enforcement used to capture runaway enslaved Blacks back in the 1800s. There is documented evidence of Rangers also burning villages, and murdering Mexicans and Mexican-Americans. It wasn't until 1988, and only after NAACP complaints, that the agency hired its first African American.

Utah-Ban in Progress

LET'S TALK ABOUT IT: Utah is the state where a local charter school decided to allow students to opt out of Black History Month. "Critical Race Theory is designed to further divide Americans by indoctrinating young students into being ashamed of their race," says Natalie Cline, a Utah State Board of Education member. When Utah lawmakers initially banned the teaching of "harmful" race-related concepts, Cline insisted the education rule needed more restrictions. She proposed amendments that included a list of more than 100 terms and concepts that would be prohibited when discussing race in the classroom, such as social change, empathy, marginalized voices, anti-racism, inclusion, social justice and validating values.

BUT REALLY THOUGH: Thomas Coleman, a former enslaved African American, was killed for being in the company of a white woman, according to an 1886 newspaper clipping from The Daily Union Vedette. His throat was slit, and his body dumped on the ground of the current state capitol. A placard that read, "NOTICE TO ALL N******! TAKE WARNING! LEAVE WHITE WOMEN ALONE!!!" was placed on his dead body.

Washington-Ban in Progress

LET'S TALK ABOUT IT: The Teach Truth Days of Action campaign last year was created to stop anti-history education bills. The organizations involved in this endeavor, have banned together to prevent "legislation or pursued other measures that attempt to require educators to lie to students about the role of racism, sexism, heterosexism, transphobia, and other forms of oppression throughout U.S. history." In Washington, that means defeating a house bill set up to ban Critical Race Theory courses.

BUT REALLY THOUGH: In 1951, Carl Maxey became the first Black lawyer in Spokane. After returning home in 1946, from active duty in the U.S. Army, Maxey was denied service at a Spokane cafeteria despite being in full uniform. He resolved to fight against racial discrimination and worked towards desegregating local venues. At one point, there were only two Spokane restaurants available to African Americans, and they were both Black owned. Maxey later served as chairman of the U.S. Civil Rights Commission for several sitting presidents.

West Virginia-Ban in Progress

LET'S TALK ABOUT IT: : One reason the West Virginia Senate passed Senate Bill 498 was to prevent public K-12th grade students from "feeling guilty because of their race:. Democrats and organizations like the American Civil Liberties Union of West Virginia are concerned that this type of legislation will limit free speech and create censorship in schools. Democratic Senator Owens Brown, the former president of the West Virginia NAACP believes that Republicans are using this bill as a "weapon or tool in their campaigns" to create unnecessary fear among citizens.

BUT REALLY THOUGH: In 1912, Robert Johnson was lynched because a white woman alleged that he "nearly" raped her. The accuser was unable to identify him until he was stripped naked and forced to put on clothing similar to what she said the man wore during her attack. Despite, claiming innocence and having an alibi, Johnson was murdered by a West Virginia mob led by the accuser's father. An investigator later proved Johnson's innocence, but it was too late. Attempts to establish an anti-lynching law were denied.

Wisconsin -Ban in Progress

LET'S TALK ABOUT IT: Republicans in the Wisconsin Senate passed a bill that would ban teaching about racism in the state's K-12 schools. The hope is that Critical Race Theory would be banned from schools and universities in the state because it inevitably teaches white students to feel badly about themselves.

BUT REALLY THOUGH: In 1861, a Black man accused of murder was dragged from a Milwaukee jail by a white mob and lynched. In 1863, petitions to outlaw further Black immigration into Wisconsin were introduced into the state Assembly several times. Segregation motivated by racial prejudice was supported both by mainstream public opinion and by Wisconsin's laws.

For more on the banning of Black History in schools across America, watch "AMERICA IN BLACK" produced by BET and  CBS NEWS premiering on Sunday, February 19 at 10 PM ET/PT on BET, BET HER, and VH1, and available on BET+ and the CBS NEWS streaming network.