'P-Valley' Stars J Alphonse Nicholson And Nicco Annan Join The Goodr Co. To Bring Water To Jackson Residents
Lil Murda and Uncle Clifford truly have love for the M-I-crooked letter, crooked letter!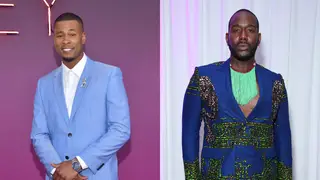 The men of P-Valley are stepping up for Jackson, Mississippi residents in a monumental way amid the city's ongoing water crisis.
On September 14, J Alphonse Nicholson tapped Nicco Annan, who portray Lil Murda and Uncle Clifford in the series, to collaborate with Atlanta-based The Goodr Co in an effort to provide the Jackson residents with 100,000 bottles of potable water.
Nicholson took to his Twitter account to encourage the community in Atlanta to come out and give back.
"ATL, help us help JACKSON, MS. Info below.," he wrote.
Annan got in on the charitable action by posting a video asking for folks to show up.
"I need y'all to do y'all part. Y'all saved The Pynk. Now, I need y'all to save the people," he said, referencing the fictitious strip club in Chucalissa on P-Valley.
BET.com reported, in late August, that the city suffered a water crisis after massive flooding damaged two of Jackson's already-stressed water treatment plants. Some residents had to forego bathing, and others had to boil water. Mississippi governor, Tate Reeves, issued a state of emergency for the area.