A$AP Rocky On Fatherhood: 'I Hope To Raise Open-Minded Children'
Rihanna and A$AP Rocky reportedly welcomed their baby boy on May 13.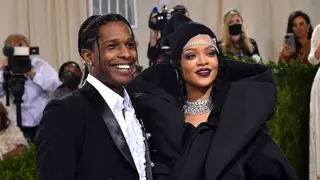 A$AP Rocky is opening up about his fatherhood plans! In a recently published interview with Dazed & Confused, the rapper candidly shared his parenting goals shortly after hosting a rave-themed baby shower with his then-pregnant BAE Rihanna. Keep scrolling to read the recording artist's parenting priorities that gave us a small glimpse into his life as a new dad.
"I will always remind my children to never lose their imagination, even as adults, no matter what," Rocky shared in the Summer 2022 issue of the magazine. "I actually love to watch cartoons — I've watched like Teletubbies, Blue's Clues, Yo Gabba Gabba, Peppa Pig, and Baby Shark."
He continued, "I hope to raise open-minded children. Not people who discriminate. And I'm not trying to describe a saint, but realistically, I just want a cool child with cool parents."
FYI: In May, TMZ reported A$AP Rocky welcomed his first child with music and beauty billionaire Rihanna—a baby boy! Since then, the couple has successfully stayed out of the public eye. The new parents have yet to reveal their son's name nor have they posted any photos of the newborn.
The New Yorker described his relationship with RiRi as "natural" and filled with stylish moments.
"I think it's just natural. We happen to look good together naturally," he explained. "You know, it would take a lot of work to have us forcefully match before we leave the house. Sometimes we match to a T, or we just wear the same clothes. If I buy a shirt that she likes, I expect to get it stolen... but then I gotta steal it back."
Big mood! This couple keeps up swooning.