Wellness in the Workplace
Employers are now paying attention to the health of their employees.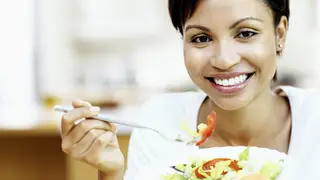 Employers have instituted a variety of workplace wellness programs and initiatives in the past decade in an effort to curb costs. And an online survey from last summer showed more than 50 percent of large businesses are considering adopting some sort of wellness program. In a country with rapidly growing obesity and other lifestyle-related health issues, it makes good business sense for employers to pay attention to the health and wellness of their employees.
What Is a Workplace Wellness Program?
So what exactly is a corporate workplace wellness program? There are many different types. The most all encompassing is the fitness program. This is when employers offer employees discounts on gym memberships, rebates on fitness equipment, construct onsite gyms and organize sports teams to encourage employee fitness and camaraderie.
Another type is the nutrition-based program. This program entails offering healthy menu options in the company cafeteria and vending machines, counseling sessions and educational seminars. Many companies recruit a registered dietitian to coordinate such programs.
Smoking cessation programs are also very popular in the workplace. According to the Centers for Disease Control and Prevention, employees who smoke cost companies about $1,300 a year more than employees who don't light up. Because of this, and the fact that insurers charge smokers higher premiums, employers have a vested interest in lowering this number.
Yet another popular workplace wellness program is pregnancy and maternity wellness. These programs were designed largely because workplace discrimination due to pregnancy is illegal, but the fact remains that before, during and after childbirth, pregnant mothers cost companies money.
 BET Health News - We go beyond the music and entertainment world to bring you important medical information and health-related tips of special relevance to Blacks in the U.S. and around the world. Click here to subscribe to our newsletter.