Master P Has His Eyes on This New Gig
Hear the rapper state his case as to why he's a perfect hire.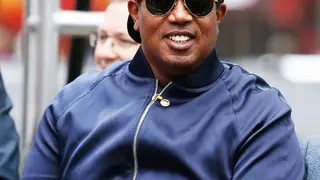 Although there is a long history of those who gravitate toward hip-hop also having a soft spot for sports, sometimes the two worlds merge in surprising and exciting ways.

During the back-and-forth, the rap legend shared that he's not only qualified for an assistant coach position, having had contracts with the Charlotte Hornets and the Toronto Raptors in the past, but he's ready to take on the NBA.
"I think they need me to be an assistant coach," Master P said without hesitation. "I'm serious about coaching. Bring me in."
During the conversation, which took place in a parking lot, another fan rolled up in a red sportscar, interrupting the interview to offer his support of the idea of Master P getting involved in professional coaching.
He also offered his two cents regarding LaVar Ball taking an interest in his son's career, with the veteran emcee saying he's exactly the same way with his supportive parenting style. Ball recently gloated that his son, Lonzo Ball, is going to be better than Steph Curry, resulting in fans from all sides weighing in on the matter.
"I think a lot of kids need their fathers in their lives," he added. "All that other stuff, I think he's on the right track."
Take a look at Master P discussing his passionate interest in becoming an official coach for the Pelicans in the clip below.