New Video Of Michael Brown Sparks Greater Outrage At Cop's Handling Of Case | Michael Brown | National | BET
The video was unearthed via a documentary called "Strange Fruit."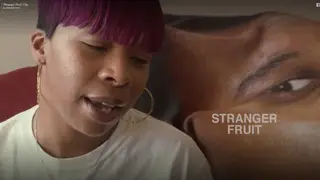 New video could put into context what happened prior to Michael Brown's death at the hands of police.
Via a new documentary called Stranger Fruit, previously unreleased surveillance footage inside the corner store places Brown at the market at 1 am on the day he died, which is numerous hours prior to his now understood second visit.
Part of the premise of the case law enforcement authorities attempted to point out was that the 18-year-old Ferguson resident did not know the store clerks and he plainly robbed them, which sparked the call to police that would eventually end his life.
The video's narrator makes the claim, while the footage is running, that Brown trades a bag of marijuana with the store clerk in exchange for two boxes of cigarillos. He's then seen leaving the boxes there for pickup at a later time. It's when he comes back for the cigarillos that something goes other than planned, but it almost certainly proves that while his transaction wasn't legal, he did not rob the convenience store.
"There was some type of exchange, for one thing, for another," Lesley McSpadden, Brown's mother, says in the Jason Pollock documentary, which premiered Saturday at SXSW.
Previously, it had been disputed between the Brown family's lawyers, police and witnesses as to what exactly happened at the store. Attorneys for the store clerks maintain that no deal had been made and that Brown did walk off with stolen merchandise.
"There was no transaction," said Jay Kanzler, a lawyer for the store's clerks. "There was no understanding. No agreement. Those folks didn't sell him cigarillos for pot. The reason he gave it back is he was walking out the door with unpaid merchandise and they wanted it back."
Michael Brown subsequently left the convenience store and was confronted by police who shot him to death after Officer Darren Wilson claimed Brown refused to obey orders and lunged at him. What happened between Wilson and Brown continues to remain a mystery and a point of contention, which sparked the now-infamous Ferguson protests and made the St. Louis suburb synonymous with police brutality.
Watch the new convenience store footage below via Stranger Fruit.