GOP Sen. Tim Scott To Make Appearance On 'The View'
The Black conservative has a feud with co-host Joy Behar who said he doesn't understand systemic racism.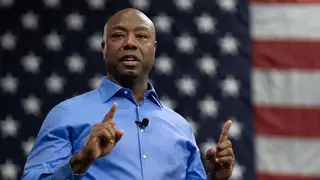 South Carolina's GOP Sen. Tim Scott is slated to appear Monday (June 5) on ABC's The View after his sharp response to the show's co-host Joy Behar said that the Black conservative, like U.S. Supreme Court Justice Clarence Thomas, doesn't understand systemic racism against African Americans.
But Scott, who announced his candidacy for president on May 22, will not have the opportunity to confront Behar on the show. The Wrap reports that Monday is Behar's day off from the program. Instead, he will no doubt answer pointed questions about racism in America from co-hosts Sara Haines, Sunny Hostin, Alyssa Farah Griffin and Ana Navarro, and Whoopi Goldberg.
After Scott announced his candidacy, a video of Behar's comments on The View circulated widely on social media among Republicans and conservative news outlets.
"He's one of these guys, like Clarence Thomas, Black Republican, who believes in pulling yourself up by your bootstraps, rather than understanding the systemic racism that African Americans face in this country and other minorities. He doesn't get it. Neither does Clarence. That's why they're Republicans," Fox News quoted Behar.
Taking to Twitter, Scott fired back: "When a Black conservative who believes in the future of this nation stands up to be counted, they lose their minds. That's why I'm the candidate the radical Left fears the most."
Scott, 57, grew up in North Charleston in a poor, single-parent home where his mother worked as a nurse's assistant. His political career began In 1995, when he was elected to the Charleston County City Council, where he served until 2008, and later won his election to the U.S. House of Representatives.
In 2013, former South Carolina Gov. Nikki Haley appointed Scott to the Senate to fill a vacant seat. He made history as the first Black senator from the South since Reconstruction.
As a lawmaker, Scott has opposed legislation that most Black Americans favor, including strengthening voting rights, police reform and Obamacare.
In his rebuttal to President Biden's first joint address to Congress in 2021, Scott insisted that the nation has no racism problem, disputing the president's view that white supremacy is the greatest threat to the homeland.
"Hear me clearly. America is not a racist country," Scott told the national audience, arguing that Democrats ignore the country's progress toward racial equality."