Commentary: Someone Please Call the Fashion Police on Giuliana Rancic
There's no excuse for Rancic's slur about Zendaya's Oscar hair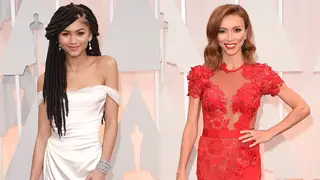 Giuliana Rancic must have thought it was 1982 Monday night on Fashion Police. Otherwise, how else to explain why she believed it made any sense to connect locs with marijuana? At least back in 1982, Rancic could have argued that the only time she had seen locs was when they were atop the head of Bob Marley; she could have maintained that she thought they were connected only to Rastafarians, who do, it's true, smoke marijuana. She could have feigned the kind of ignorance necessary to tie a certain hair look to a weeded-up lifestyle.
Back in 1982.
CLICK HERE FOR 2015 OSCARS RED CARPET PHOTOS 
Today, in 2015, Rancic has experienced Lauryn Hill and Lenny Kravitz and Lisa Bonet and the list goes on. This past Sunday, at the Oscars, she encountered multiple heads of people with locs, including Ava DuVernay, whose Selma had been nominated for Best Picture. DuVernay has been on what some would call a media blitz, meaning Rancic could not have missed her on television and in magazines. And with locs that sweep down her back, Rancic would have had to notice the director's hair. And she would have also noticed that not one journalist said DuVernay smelled like she had just smoked a joint.
Yet and still, here is what Rancic said about actress and singer Zendaya, who at the Oscars wore her hair in extensions made to look like long locs: "I feel that she smells like patchouli oil... or weed." Kelly Osbourne, who was sitting next to Rancic on the Fashion Police set, looked horrified. So too, apparently, did a lot of viewers at home, who let loose on social media about Rancic's slur, calling her racist and clueless.
Zendaya kept it classy in her comeback, a long Instagram post which chided Rancic for crossing "a fine line between what is funny and disrespectful." She reminded her that it is "not only a large stereotype but outrageously offensive" to say that an 18-year-old with locs must smell like weed. And then she went on to list a number of highly accomplished, non-patchouli or weed-smelling Black people with locs, from DuVernay to Ledisi to a Harvard professor.
Rancic has been doing nothing but apologizing ever since she learned how upsetting her comments were. She swears up and down that they had nothing to do with race. For Rancic to think that anyone will believe her, she must have been smoking something herself. 
The opinions expressed here do not necessarily reflect those of BET Networks.


BET.com always gives you the latest fashion and beauty trends, tips and news. We are committed to bringing you the best of Black lifestyle and celebrity culture.

Click here to subscribe to our newsletter.
(Photos: Jason Merritt/Getty Images)