Tia Mowry & Ex Cory Hardrict Settle Divorce, Agree To Joint Custody Of 2 Kids
The couple announced the end of their 14-year marriage six months ago.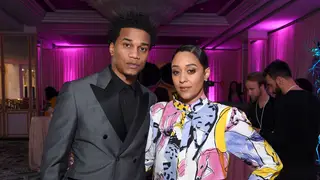 Actors Tia Mowry and Cory Hardrict are officially divorced.
The couple reached a settlement six months after announcing that they were ending their 14-year marriage.
According to court documents obtained by E! News, the former couple "entered into a written agreement regarding their property and their marriage or domestic partnership rights, including support."
The couple will share custody of their two children Cree, 11, and daughter Cairo, 4.
Mowry filed for divorce in October 2022 and requested legal and physical joint custody, and asked to terminate the court's ability to award spousal support, citing a premarital agreement.
In announcing the split last year, Mowry wrote on social media that she and Hardrict had "decided to go our separate ways."
"These decisions are never easy, and not without sadness," she wrote, in part, in an Oct. 4 Instagram post. "We will maintain a friendship as we co-parent our beautiful children."
The actress added, "I am grateful for all the happy times we had together and want to thank my friends, family and fans for your love and support as we start this new chapter moving forward in our lives."
In an interview last year on Today, Mowry said, "I knew when I really started to focus on my happiness," she added, "I feel like women, we tend to focus on everybody else's happiness, making sure that everybody else is OK — meaning our children, our friends, our family. But at the end of the day, it's about self-love."
She continued, "When you start to really work on yourself, love yourself, know your value and know your worth, then all of a sudden, there's this awakening. And it's not easy. It's a hard journey, but at the end of the day, I feel like it is so, so worth it."