No Charges for Seattle Cop Who Punched Handcuffed Woman During Arrest
Officer Adley Shepherd punched 23-year-old Miyekko Durden-Bosley after she kicked at him inside a patrol car.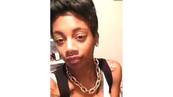 (Photo: Miyekko Durden-Bosley via Facebook/KIRO 7 TV)

A county prosecutor in Washington State will not file felony charges against a Seattle Police officer who punched a handcuffed woman who was being taken into custody, The Seattle Times recently reported.
"While Officer Shepherd may have had other options or alternatives, we have concluded that we would be unable to prove that Officer Shepherd's use of force was criminal," said King county prosecutors in a news release.
Officer Adley Shepherd arrested 23-year-old Miyekko Durden-Bosley after receiving a call on June 22 about a possible domestic violence incident in south Seattle. Dash-camera footage from inside the patrol car shows Durden-Bosley kick at Shepherd during the arrest.
The officer is then seen punching the handcuffed young woman. According to medical records and court documents, Durden-Bosley was struck on the right side of her face and suffered fractured bones around her eye.
"This was a combative, resistant, violent suspect who was being taken into custody," Shepherd's attorney, Eric Makus, said. "She assaulted a police officer. And he used appropriate lawful force to subdue the situation."
On the video, Officer Shepherd is heard complaining about pain in his jaw and face, but records showed "no obvious injury." It remains unclear whether the kick connected with the officer.
Earlier this fall, Robert Bragg Jr., who reportedly supervises use-of-force training for the Washington State Criminal Justice Training Commission, provided prosecutors with a report concluding that Officer Shepard's actions were "inappropriate, inconsistent with best practices and inflicted unnecessary injuries to the woman."
Durden-Bosley's attorneys announced that they are currently "exploring alternative avenues to attempt to secure justice for what they call a brutal assault." Officer Shepherd, a nine-year veteran, is still on administrative leave, but will be returned to full duty as soon as possible, according to the Seattle Police Officer's Guild.
The King county prosecutors decision comes as a public backlash against a string of police shootings and brutality against African-Americans continues to erupt across the country.
Click here to win a trip to the Super Bowl Gospel Celebration in Phoenix, AZ, plus 4 tickets to the Big Game.

BET National News - Keep up to date with breaking news stories from around the nation, including headlines from the hip hop and entertainment world. Click here to subscribe to our newsletter.