Congrats! Jordin Sparks Gives Birth To A Baby Boy
See a picture of the newest edition to her and Dana Isaiah's family.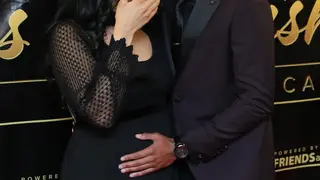 According to PEOPLE Magazine, her and husband Dana Isaiah welcomed baby DJ (Dana Isaiah Jr.) into the world on May 2 at the Natural Birth Center & Women's Wellness in Los Angeles.
Weighing in at eight pounds, four ounces, the baby is the couple's first. Sparks told the magazine about her first birthing experience. "It was miraculously beautiful," she said. "Dana caught him with my midwife, Simona, and when he handed him to me, I was absolutely overwhelmed with joy. He was and is everything we imagined."
She also took to Instagram with a picture of DJ.
Congratulations are in order. DJ is perfect!