Detroit Cop Saw No Struggle Before Girl, 7, Shot
A police officer who was second through the door in a Detroit raid testified Tuesday that he didn't see anyone struggle with another officer before Aiyana Stanley-Jones was fatally shot on a couch.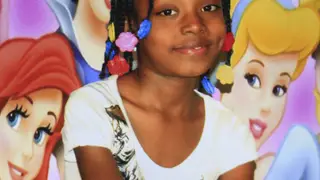 (Photo: Detroit Free Press/Landov)

DETROIT (AP) — A police officer who was second through the door in a Detroit raid testified Tuesday that he didn't see anyone struggle with another officer before a 7-year-old girl was fatally shot on a couch.
Shawn Stallard, just an arms-length behind, said he was surprised when Officer Joseph Weekley paused inside the front door after rushing a house to search for a murder suspect. He testified a day after the victim's grandmother accused police of purposely shooting Aiyana Stanley-Jones.
"We don't train that way. If you stop that's bad," Stallard told jurors. Officers "don't stop there unless something made you stop."
Weekley, a member of an elite police unit, is charged with involuntary manslaughter in Aiyana's death. He's accused of failing to control his gun during the raid.
Weekley claims he accidentally fired when the girl's grandmother grabbed his gun in the chaotic moments following the use of a stun grenade. Mertilla Jones, however, denied any confrontation during her emotional testimony Monday and said police "came to kill" that spring night in 2010.
Stallard repeatedly told jurors that he saw no one near Weekley, who had a shield in one hand and a submachine gun in the other as he burst through the door. Stallard heard a gunshot but figured it came from someone who was firing at police.
"Did you see anyone try to take the gun away from him?" assistant prosecutor Rob Moran asked.
Stallard said Detroit police are trained to push a person away if they grab an officer's gun or move the weapon in the shape of a "J'' to keep control. He said officers aren't trained to pull the trigger under those circumstances.
On cross-examination, Stallard acknowledged that the house was very dark.
"This is a very dangerous job. No amount of training can make everything safe all the time," he said.
Another officer, John Collins, testified that Weekley was in a "state of panic" immediately after the shooting, repeatedly declaring, "she grabbed my gun, she grabbed my gun."
He said he advised Weekley to "tell the truth."
Another officer in charge of the Special Response Team, Inspector Don Johnson, said Weekley was vomiting, crying and shaking. He said team members never are advised to have a finger on the trigger during a raid.
Weekley kept saying, "Why did she hit my gun?" Johnson recalled.
Jones, Aiyana's grandmother, was at the opposite end of the same couch where the girl was shot. On Monday, she testified that she rolled onto the floor after the noise and bright flash from the grenade, and was on her stomach.
Johnson firmly rejected Jones' belief that police wanted to kill a little girl.
"You've got to be joking," he said near the end of his testimony Tuesday.
The raid three years ago was recorded by a crew from "The First 48," a police reality show on A&E Networks. Johnson said he was "absolutely" opposed to it but the crew was allowed to stay.
Follow Ed White at twitter.com/edwhiteap
BET National News - Keep up to date with breaking news stories from around the nation, including headlines from the hip hop and entertainment world. Click here to subscribe to our newsletter.