Kyrie Irving Says Controversial Mask Tweet Was 'Nothing COVID Rule Related'
He's clarifying a comment he made earlier this week about wearing masks.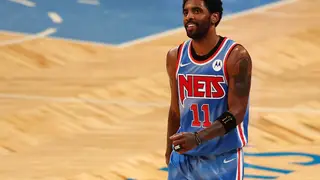 Kyrie Irving isn't a stranger to making statements that have earned him more than a few side-eyes, however his latest potential one is under his own refute.
The Brooklyn Nets point guard sparked criticism on Wednesday (September 15) with a tweet reading, "My mask is off. Now take yours off. No fear."
Later that same day, the 29-year-old claimed his tweet was taken out of context.
"'Mask off' means You stop being something you're not and stop lying to yourself," the NBA star wrote in the follow-up tweet. It's the moment you discover the real you and can walk around with NO FEAR in a society that shows a lot of the masks people wear to hide who they truly are. *nothing COVID rule related!! Relax."
Irving's tweet comes a day after ESPN reported that the NBA Players' Association had refused to change its stance against mandating vaccines for athletes amid negotiations with the NBA. Beginning on October 19, the leagues' COVID-19 restrictions will officially be in place for the upcoming 2021-22 season.
In the past, Irving has also found himself the subject of scrutiny over controversial comments. In 2018, he said that he doubted the existence of dinosaurs; and also wound up apologizing for saying publicly that he believed the earth is flat.