Kerry Washington And Oprah Winfrey To Star In Tyler Perry Netflix Film
Washington will also sit as an executive producer.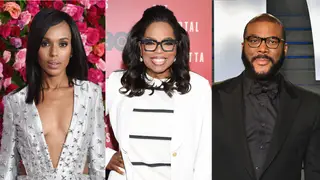 Kerry Washington and Oprah Winfrey have been tapped to star in Tyler Perry's Six Triple Eight, his fourth Netflix film!
According to The Hollywood Reporter, Perry wrote the script for Six Triple Eight, which is based on an article from WWII History magazine by Kevin M. Hymel that follows the true story of the only all-black, all-female World War II battalion that was proven to be vital to the American war effort.
The cast includes Ebony Obsidian, Milauna Jackson, Kylie Jefferson, Shanice Shantay, Sarah Jeffery, Pepi Sonuga, and Jay Reeves.
Perry will also produce the film, and Washington will be an executive producer.
The story of the 6888th Postal Directory Battalion has been kept out of U.S. history books until it was restored on Mar. 14, 2022, when U.S. President Joe Biden signed a bill for the women to receive the Congressional Gold Medal, Congress' highest honor, THR notes.
Six Triple Eight is Perry's latest Netflix film following his first projects on the streamer:  A Fall From Grace, A Madea Homecoming, and A Jazzman's Blues.
It's unclear when the film will be released, but production is currently in the works.