Tupac Murder Witness Claims Keefe D's Nephew Orlando Anderson Wasn't Gunman
Keefe D was arrested last week in connection to the hip-hop legend's death.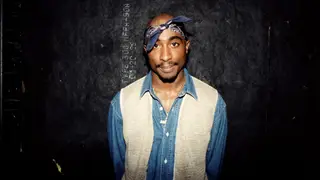 According to a witness of the 1996 Las Vegas shooting that killed Tupac Shakur, long-suspected triggerman Orlando Anderson didn't fire the fatal shots.
8 News Now reports that the witness, an affiliate of the South Side Compton Crips, told a Las Vegas grand jury in the weeks leading up to the new indictment of Duane "Keefe D" Davis that Davis was in the car from which the drive-by shooting occurred along with Anderson, but it was another man that actually pulled the trigger.
Keefe D was arrested last week in connection with Shakur's death, marking the first time charges have been made in the unsolved murder. Davis was charged with murder with the use of a deadly weapon with the intent to promote, further or assist a criminal gang, according to court documents.
Prosecutors say the shooting was retaliatory and that two other men, Terrence "Bubble Up" Brown and Deandre "Big Dre" Smith, were also in the car with Davis and Anderson. The witness, in his testimony, pointed at Smith as the actual gunman.
"When [Davis] passed the firearm to Orlando, Orlando didn't have a clear shot," the witness told the grand jury, according to the news station. "Big Dre is six-six. At this time he's 370, 400 [pounds]. He's big."
"And you're not going to be able to lean over a big guy like that and get — I mean, my time of knowing things, doing — you're not going to reach over like that because shells would have been popping all in Big Dre's face and all kind of stuff. He can't bend down or anything, he's too big."
When asked if Smith was the shooter, the witness said, "He did the shooting."
Additionally, the witness accused Keefe D, the only suspect in the case who is still alive, of ordering the hit.
"Keefe is the one who's going to make all the arrangements and all the plans until that gun goes into somebody else's hand," he said.
Over the past few years, Keefe D has openly detailed his role in Shakur's murder in various interviews, documentaries,= and his own 2019 book "Compton Street Legend."