Twitter Reacts To Racist Patron Asking Black Woman At Georgia Bar, 'What You Doing In A White Place Like This?'
The Black woman at Hiram's Bar And Grill was NOT for the games.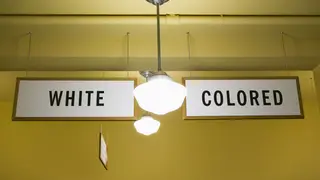 Twitter reacted to a Black women's bigoted and poor treatment at a podunk Georgia bar and restaurant.
A viral video on September 18 showed the woman's interaction with redneck patrons and a server at Hiram Bar and Grill after they began to harass her because she wanted to play pool.
In the video, she clapped back at patrons who informed her that the establishment was for white folks only.
"What the f**k are you talking about? And you not gonna talk to me. I am gonna sit here, I am gonna finish my food, and then I am gonna leave," she responded.
RELATED: Mariah Carey Celebrates 'Honey' 25th Anniversary With Hilarious TikTok Video
A white male shot back, "You are gonna go to jail."
The sister, who was rocking an expensive MCM bag, let him know money wasn't a thing. "I am OK with it. I have got a lot of money in my account."
As the video continued, the Black customer accused a white female server of chucking her food order at her.
"I asked to turn it down, she snapped at me, and she threw a whole box at me."
The server denied the accusation but told her that she could leave if she didn't like the service.
Another white guy asked her, "What you doing in a white place like this?"
"I am in a white place like this because I am here to play pool. This is the only place where there is a pool table. So, that's what I am doing at a white place."
He then told her to get her own pool table because she wasn't welcome at Hiram's.
"I am racist, and I don't care," he told her.
Twitter sounded off about the racist incident.
Hiram, Georgia, is a town in Paulding County with a population of 5,205. Although the bar patrons were racist, the town's residents are actually split between white and Black.