John Singleton Reflects on Boyz N the Hood
The Abduction director remembers the iconic movie and its stars 20 years later.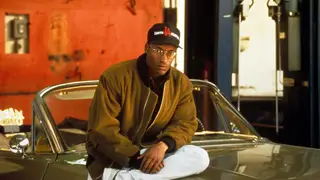 After marking and discussing the cultural significance of Boyz N the Hood on the film's 20th anniversary on July 12 with the rest of the Internet, BET.com checked in with director John Singleton to get his thoughts on this cinematic milestone.
You've directed eight films since Boyz In the Hood, but does it really feel like 20 years since you filmed it?

It doesn't feel like it's been 20 years at all. It feels like yesterday, but then it again it has been 20 years. I was 22 years old making a movie when everybody said I couldn't and wouldn't do it. And I was doing it in a big way, so it was a really special time for me in that regard.
Did you realize back then you were making an iconic film?

I knew the movie would have an emotional impact and be popular because it had never been seen before. That's all I knew. I knew it was an important movie because it was new, but I had no idea it would have lasted as long as it has. The movie is much more than a film, it's a reflection of life and a lot of people's lives.
Boyz n the Hood usually runs on cable on a weekly basis and many can recite the dialogue verbatim. Do you have any favorite scenes in the movie?

I don't have any favorite scenes because I wrote that movie and I lived it. The movie is a reflection of me.
The film starred seasoned actors Laurence Fishburne and Angela Bassett. What do you recall about selecting all of the young and new acting talent you hired at the time?
I knew Ice Cube was a movie star before he knew he was even a movie star. Everybody in the movie I just cast because I thought they were very interesting and really good young actors. We were all like a family together, all of us—Cube, Regina [King], Cuba [Gooding Jr.], Morris [Chestnut] and Nia [Long]—that movie launched all of our careers so we all came into the film and entertainment business through making Boyz N the Hood together. All of us were in our early 20s; some of us, like Nia and Regina, were in our teens.
So what does the movie represent to you today?

I'm just happy that I'm still chugging along and I'm not somewhere still only talking that one movie. I've made a lot of different films since then. Boyz N the Hood was the springboard for my career, but I have had one of the more unique careers in show business because I've done a lot of different types of pictures. And I love being able to say that I've done different types of movies and continue to do different types of movies.
John Singleton's latest directorial effort, the action thriller Abduction, starring Taylor Lautner, hits theaters Sept. 23.
(Photo: Columbia Pictures/Everett Collection)