Michael Strahan Speaks Out on His Relationship With Kelly Ripa Today
The former colleagues had a messy split earlier this year.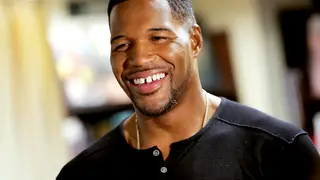 The cold war between Michael Strahan and Kelly Ripa continues.
The former colleagues, who hosted LIVE! With Kelly and Michael together for four years, had a very public falling out this past summer after Strahan decided to leave LIVE! to work full time as a host on Good Morning America. 
For some reason, Ripa took the news very personally and refused to talk to Strahan thereafter, except to throw shade at him live on the air. Now, Strahan is opening up to People about the current status of his relationship with his former co-host — and it doesn't sound like time has healed her wounds.
"At one point I think we were friends. I don't know what happened at the end. I learned a lot from her, though," Strahan says diplomatically. "Toward the end of it all, we didn't really communicate that much," Strahan adds. "I kinda looked at it like, 'It was what it was.' I come from a business where you have to collaborate. The show was going well? We're all winning. That's all that matters to me."  
He goes on to say, "The most disappointing thing to me was that I was painted as the bad guy, because I value the way I carry myself. I don't want people to see me as, 'Oh, he just ran out, just left them there.' That's just not true." 
Sounds like Kelly is still holding a grudge against Michael for moving on to a bigger and better opportunity. Wonder what she would do if the tables were turned?
See how the colleagues parted ways on Michael's last episode with BET Breaks, above.