What's The Dish?: Chefs Share Their Favorite Tips For The Perfect Thanksgiving Day Meal
These cooking pros reveal some of their favorite foods and how to best navigate the day.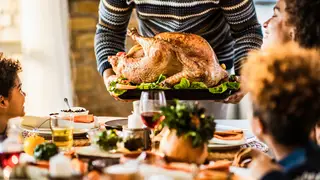 It's that time of year again and family and friends are getting ready to gather in celebration of Thanksgiving Day. A table full of goodies like ham, turkey, mac and cheese, stuffing (or dressing depending on where you're from), mashed potatoes, cranberry sauce, and of course, sweet potato pie. And whether you're just about eating the sides, all about the desserts or prefer only vegan, vegetarian, or raw diet options, there's something for everyone to make this holiday enjoyable.
Chefs are no different. In fact, some of them have spent years perfecting their Thanksgiving Day dishes as an expression of their creativity, expertise, and culture. BET.com asked six cooking pros to tell us what they love to make on turkey day and offer a tip or two on how to make preparation and presentation perfectly bearable.
I am the side queen. So, I make all the sides for Thanksgiving. My fiance is a meat eater, so he'll eat the meat. I make mashed potatoes, macaroni, collard greens, and potato salad. My stuff is good. You won't be able to tell [that it's vegan]. —Pinky Cole, CEO and Founder, Slutty Vegan ATL
My wife says Thanksgiving Day is the only time I cook like a grandma. LOL. My favorite dish to make or eat is dressing, aka stuffing—specifically cornbread dressing with smoked turkey.  My pro tip is to plan ahead! I don't like to cook on the day. I like to eat, drink, and watch football! I'm always done the night before and usually have my first meal for breakfast. —Chef Greg Collier, co-owner of Bayhaven Restaurant Group, serving up classic Soul Food
I am hosting this year, and I typically cook all the traditional things like collard greens, mac and cheese, cornbread dressing, and candied yams. However, my favorite thing to make is mac and cheese. My Aunt Inga used to make it every year when I was a kid, and now I get to make a version inspired by her.
My biggest tip for Thanksgiving Day cooking is to do as much as you can ahead of time. You can make collard greens, dressing, yams, and the pie a few days out, and they'll be perfectly fine, likely even better. —Chef de Cuisine Damarr Brown, Virtue Restaurant & Bar, Chicago
Although I won't be celebrating Thanksgiving this year, my favorite dish to make is "Roasted Brussels Sprouts with Spiced Apples and Candied Walnuts," (see below for recipe).  My pro tip for making Thanksgiving Day easier is to share the load. Instead of trying to cook everything yourself, ask everyone to bring a dish. Also, use pre-cut vegetables. No one will know you didn't cut them yourself. —Chef Daphne Eugene, based in Austria
As much as I love to spend time with my family and cook for them, I won't be hosting Thanksgiving dinner this year. I'll be busy filling holiday orders for my catering business. My favorite dish to make (and eat) for Thanksgiving Day is oven-roasted turkey! I know it seems cliché, but I've been charged with cooking the big bird for many years because my family enjoys it so much and can't get enough of it.
While most people find [turkey] intimidating, bland, or even dry, that's actually what I love about it because it's a challenge for me to discover new ways to make it even better than the year before. My #1 secret to creating a juicy and tender turkey that won't disappoint is to brine it (soak it in water and salt) for at least 24 hours before cooking. It works every time! —Chef Cassandra Doxa, Doxa Eats Catering Company
I love eating cornbread dressing; I could eat it for days after the holiday. You can eat it alone, with gravy, with cranberry sauce, or let it be the center of your "side plate," that mini plate we all have a few hours after we've eaten our main one, LOL. I also love greens—collards, turnips, and mustards.
There's a lot of pressure to do it all during the holidays, and that's not always realistic. We should be better about admitting where we need help so that we can enjoy Thanksgiving without feeling overwhelmed. So, if you're great at making savory food but not so good at desserts, use it as an opportunity to patronize a local, small business that makes great sweets. You can still be a great host even if you don't personally cook every single item! —Chef Adyre Mason, The Veggie, Huntsville, Alabama
Roasted Brussels Sprouts with Spiced Apples and Candied Walnuts
Preparation Time: 10-15 min
2 medium red delicious apples
1/8 tsp white distilled vinegar
Pre-heat oven to 350 F/ 180 C
Remove the ends of Brussel Sprouts and first layer of leaves, then cut in half horizontally.
In a medium bowl, add Brussel Sprouts, oil, salt, pepper, and garlic powder and mix thoroughly. Add to oven tray and spread evenly. Roast for approx. 25 minutes.
In a separate medium sized bowl, add 2 cups of water and squeeze the 1/2 lemon juice. Set Aside.
Wash, remove seeds, and cut apples into cubes and add to lemon water.
Chop walnuts and put aside.
In a small pot add 1/4 cup of water, with brown sugar, cinnamon stick, clove, star anise, nutmeg and whiskey. Bring to boil, then reduce to half. Strain liquid and place to the side.
In a small pot add reduced liquid, walnuts, and strained apples. Cook  at medium heat until caramelized. Remove from heat and set aside.
Remove Brussels Sprouts from oven, add caramelized apples and candied walnuts to the tray.
Mix thoroughly and place into serving dish.
*Season to your preference. Desired Apple and nuts can be substituted for your liking. Most of all have fun and make it your own*
Interviews have been edited and condensed for clarity.