L.A. Mayor Encouraging Both Sides In SAG Strike To Return To Bargaining Table
Karen Bass expressed concerns that the walkout could impact Los Angeles' already crucial homelessness problem.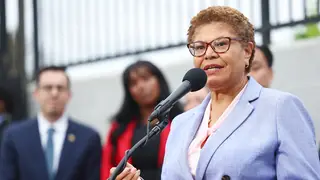 With the SAG-AFTRA union officially on strike, Mayor Karen Bass of Los Angeles is hoping that negotiations between both sides will resume.
Bass encouraged both sides to return to the negotiating table so that a compromise can be made.
"With more than one hundred thousand workers now participating in an unprecedented strike, it is clear the entertainment industry is at a historic inflection point. This affects all of us and is essential to our overall economy," Bass said in a statement. "I call upon all sides to come to the table and work around the clock until an equitable agreement is reached. This is an urgent issue that must be resolved and I will be working to make that happen."
The actors' strike will have a negative impact on other facets of the entertainment industry such as small businesses that provide services such as dry cleaning and catering services for TV and film projects.
"The mayor remains concerned about the impact the lack of agreement has had on the working people of this city and their families, as well as the impact it's had on our economy," said Zach Seidl, a spokesperson for Bass. "We must come together around an agreement that protects our signature industry and the families it supports."
Doug Herman, a top political adviser to Bass noted that the Mayor is also seeking to address the city's homelessness issue which could be exacerbated by the strike.
"She's extremely focused on the emergency crisis of solving the homelessness issue in LA, but she knows she has to walk and chew gum at the same time," Herman said "She jumped in with both feet to help settle the schools strike and, in all likelihood, would be a welcome influence in bargaining."
The Los Angeles Times reports that SAG-AFTRA's strike includes "160,000 members who work under the union's film and TV contract with companies that belong to the AMPTP, a group that represents all the major producers in Hollywood, including Netflix, Walt Disney Co., Warner Bros. Discovery, Netflix and Amazon Studios."
The strike also affects actors who work on projects overseas. Per the rules of SAG-AFTRA, members are prohibited from continuing acting or taking on new roles, and from promoting and marketing their TV/film productions.
The last major strike took place in 2007-08 and lasted 100 days. The financial losses could cost L.A. an estimated $2.1 billion.
Experts claim that the economic cost will be even greater in 2023.