Karen Bass Officially Takes Over As Mayor Of Los Angeles: 3 Major Issues The City Is Facing
The nation's second largest city has seen a surge in post-pandemic homelessness and violent crime.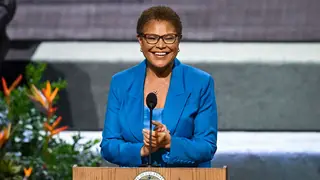 Karen Bass was sworn in Sunday (Dec. 11) as Los Angeles' first female mayor at a ceremony in which Vice President Kamala Harris administered the oath of office. It was a jubilant celebration at the Microsoft Theater in downtown L.A. that featured celebrity performances, as well as a sobering message from Bass who faces the daunting task of solving the city's housing crisis.
CNN reports that Bass said at the ceremony that her first act as mayor will be to declare a state of emergency on homelessness. Bass, a six-term congresswoman, officially took over from outgoing Mayor Eric Garcetti one minute past midnight on Monday, Dec. 12.
"Today, too many Angelenos have no choice but to crowd multiple families into one home, and to work multiple jobs just to barely pay rent," Bass said, according to CNN.
"Tragically, our city has earned the shameful crown as being home to the most crowded neighborhoods in the nation – Pico Union, South L.A., East L.A., the East Valley," she added. "And Angelenos, we know our mission – we must build housing in every neighborhood."
The emergency order will accelerate and centralize the process of deploying resources to get money appropriated to address the crisis, The Los Angeles Times reported.
If Bass' plan succeeds, the city will house approximately 15,000 people over the next 12 months and end tent encampments using existing funding. Her plan includes putting more resources into connecting people with housing and mental health services.
The New York Times reports that an estimated 69,000 residents are homeless countywide. That's just one of several problems Bass must tackle. A citywide poll by Loyola Marymount University released earlier this year found that a majority of residents felt the city was headed in the wrong direction. It was the first such finding since 2012.

But here are three issues that the new mayor will be faced with as she assumes her new role:
Crime

In addition to a housing crisis, L.A. faces a surge in post-pandemic violent crime. Politico reports that violent crime has increased since 2019, with gun violence reaching a 15-year high and property crimes increasing 15 percent over the past year. Overall violent crime jumped 9.3 percent between 2020 and 2022 in the city with homicide increasing more than 12 percent, according to CompStat.
State Budget Cuts

She also faces the daunting task of improving the quality of life likely with less state funding. Station KCRA reported in November that a California Legislative Analyst Office report warned of a $25 billion state budget shortfall next year. State revenue from taxes could be billions of dollars less than what was projected, according to KCRA. California's Legislative Analyst Office says, in fact, the state could see a $17 billion shortfall, which would affect programs that Los Angeles depends on.

Racial Tensions
Bass must also calm racial tensions across the city after the explosive news in October that three Latino City Council members were recorded in a private discussion last year in which racist insults and slurs were used, including referring to a Black child as a monkey. Councilman Kevin de León, who was part of the recorded conversation, has declined to step down from office. This is happening as Los Angeles could see a significant decline in its Black population, which currently stands at 9 percent according to U.S Census figures, down from 9.7 in 2000.
Bass won a close mayoral election against billionaire real estate developer Rick Caruso that remained too close to call until a week after Election Day.