Celebs Pay Homage To 9-Year-Old Jamel Myles, Who Killed Himself After Being Bullied
Kehlani and Laverne Cox are among the celebs mourning the fourth grader's tragic death.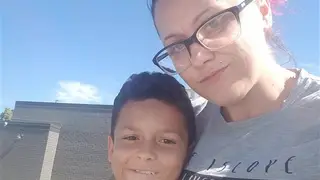 Celebrities are coming out in droves after the tragic death of 9-year-old Jamel Myles. The fourth grader, who recently came out as gay, took his life after reportedly being bullied in school.
Jamel's mother Leia Pierce opened up about how her son came out to her in a statement to CBS News. "He looked so scared when he told me. He was like, 'Mom, I'm gay...And I thought he was playing, so I looked back because I was driving, and he was all curled up, so scared. And I said, 'I still love you.'"
Pierce revealed that her young son was excited to come out to his classmates and talked about dressing in a more feminine way.
Despite the outpouring of support from his family, Jamel took his own life less than a week after he entered the fourth grade at Joe Shoemaker Elementary. "Four days is all it took at school. I could just image what they said to him... My son told my oldest daughter the kids at school told him to kill himself. I'm just sad he didn't come to me," his mother said.
With news of Jamel Myles' death touching hearts around the world, a GoFundMe has been created in his honor.
The Denver Public School District released a statement about Jamel Myles' death. "At DPS, we are deeply committed to ensuring that all members of the school community are treated with dignity and respect, regardless of sexual orientation, gender identity, or transgender status... Our formal policies and practices reflect this commitment to ensuring that our LGBTQ+ students can pursue their education with dignity — from policies and training to prevent and stop bullying to formal policies and guidance materials that fully respect gender identity (including use of preferred pronouns and restrooms)," the statement read.
Social media has been filled with heartfelt tributes made in remembrance of the 9-year-old. See reactions to Jamel Myles' death below: