Serena Williams Opens Up About 'Trying To Have Another Child' With Husband Alexis Ohanian!
"I definitely don't want to be pregnant again as an athlete."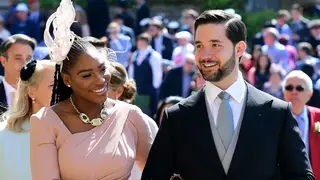 sSerena Williams and Alexis Ohanian want to expand their family!
In the same first-person essay that revealed her plans to retire from tennis, Williams also shared her hopes to welcome a second child in the upcoming future.
"In the last year, Alexis and I have been trying to have another child," she writes for Vogue's September 2022 issue. "We recently got some information from my doctor that put my mind at ease and made me feel that whenever we're ready, we can add to our family."
The four-time Olympic gold medalist continued, "I definitely don't want to be pregnant again as an athlete. I need to be two feet into tennis or two feet out."
There's no question that Williams takes her job as a mom seriously. The retiring athlete often shares sweet bonding moments with her 4-year-old daughter Olympia, who was also featured on the cover of the magazine.
"In five years, Olympia has only spent one 24-hour period away from me. This past year, while I was recovering from a hamstring injury, I got to pick her up from school four or five days a week, and I always looked forward to seeing her face light up when she walked out of the building and saw me waiting there for her," the busy mom explained. "The fact is that nothing is a sacrifice for me when it comes to Olympia."
Williams added, "I want to teach her how to tie her shoes, how to read, where babies come from, and about God. Just like my mom taught me. As she grows, it's something different every month. Lately she's been into watching baking shows, which we do together. Now we bake with Play-Doh, which is so much fun. She loves this game called The Floor Is Lava, where you have to do whatever you can to avoid touching the ground. I love setting up my gym for the game, arranging my step-up boxes and weight machines like an obstacle course. Whatever she likes, I like."
So, is Olympia excited about the idea of being a big sister? The answer is a big yes.
According to Williams, she overheard her toddler tell her interactive educational app that she wants to be a "big sister" when she grows up. Aww, too adorable!