Serena Williams Announces Her Retirement From Tennis, Calling It An 'Evolution'
The 23-time Grand Slam champion suggested her final tournament could be the U.S. Open.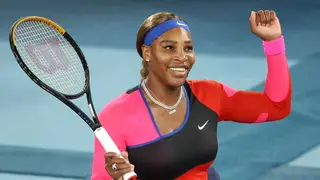 It's the end of an era. Serena Williams, one of the greatest athletes of all time, has announced she is retiring from tennis.
In a cover story for Vogue published online on Tuesday, the 23-time Grand Slam champion said, "I have never liked the word retirement. It doesn't feel like a modern word to me. I've been thinking of this as a transition, but I want to be sensitive about how I use that word, which means something very specific and important to a community of people.
"Maybe the best word to describe what I'm up to is evolution," said Williams, 40. "I'm here to tell you that I'm evolving away from tennis, toward other things that are important to me. A few years ago I quietly started Serena Ventures, a venture capital firm. Soon after that, I started a family. I want to grow that family."
She also said she was "reluctant" to talk about moving on from tennis and added, "I can't even have this conversation with my mom and dad. It's like it's not real until you say it out loud. It comes up, I get an uncomfortable lump in my throat, and I start to cry. The only person I've really gone there with is my therapist!"
Williams did not say when her final game will be, but she did suggest on Instagram that the U.S. Open, which begins Aug. 29, could be her final. "The countdown has begun. I'm gonna relish these next few weeks."
Widely considered one of the most prominent American athletes of all time, Williams and her sister Venus changed the face of the sport of tennis when they broke onto the professional scene in their early teens. Serena has won the Australian Open seven times, Wimbledon seven times, the US Open six times and the French Open three times. Altogether, she has 23 Grand Slam singles titles to her name, the most by any player in the Open Era, according to CBS Sports.
There is one player with one more Grand Slam title than Williams, Australia's Margaret Court. In the new Vogue piece, Williams notes, "There are people who say I'm not the GOAT because I didn't pass Margaret Court's record of 24 grand slam titles, which she achieved before the 'open era' that began in 1968. I'd be lying if I said I didn't want that record. Obviously I do. But day to day, I'm really not thinking about her. If I'm in a grand slam final, then yes, I am thinking about that record."

Williams, considered by many to be the most prolific tennis players ever, is the owner of 73 singles titles, 14 Grand Slam doubles titles with sister Venus Williams and four Olympic gold medals, according to CBS Sports. She remained at the top of the Women's Tennis Association's ranking for a record 186 consecutive weeks and finished the year at No. 1 five times. Her current ranking is 407, but that is largely because she has only played in six tournaments since the beginning of 2021 after suffering a series of injuries and has left WTA ranking.
As for her official departure from the court, Williams has a vision. "I'm not looking for some ceremonial, final on-court moment," Williams writes in Vogue. "I'm terrible at goodbyes, the world's worst. But please know that I am more grateful for you than I can ever express in words. You have carried me to so many wins and so many trophies. I'm going to miss that version of me, that girl who played tennis. And I'm going to miss you."