Wiggy Wack! Kandi Burruss Threatens To Sue Walmart After They Illegally Use Her Image To Sell Wigs
She's not the only Black celeb on their website, either!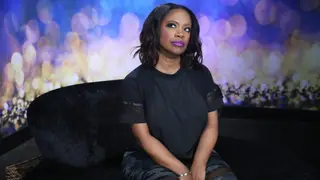 Walmart is using images of some Real Housewives of Atlanta cast mates and other Black celebrities to sell wigs online without permission, according to one Real Housewife.
We know we can't be the only ones who learned today that the mega-store sells wigs online. But it's no secret that online wig retailers use photos of Black celebrities, girls on social media, and photos from other reputable online hair stores in order to promote their units and bundles. 
The Shade Room recently posted a photo of RHOA star and Xscape singer Kandi Burruss modeling a lace front bob by a third party retailer on Walmart's website unbeknownst to her. Let's just say she wasn't too happy about them using her photo to hawk hair.
See her slide in the comments below:
While it may be difficult for Kandi to actually hold Walmart liable for this, she's not the only Black celebrity being used to sell units. Singer Fantasia's image was used to sell a "Short Curly Bob Wave Black Heat Resistant Natural Looking Wigs For Black Woman." Hmm...
See how they did Fantasia below:
It definitely isn't shocking that online retailers source photos on social media or the internet to sell their weaves and wigs. But it is alarming how this false advertisement of their products can actually trick people into thinking their wig will look like the ones in the photo resulting in a classic case of "What I Ordered Online vs. What I Got."
See more celebrities on Walmart's website being used to sell units and bundles: