Trump Tests Positive for COVID-19: Jamele Hill Has Best Response as Black Twitter Reacts to Coronavirus Diagnosis
The nation woke up to shocking news about Donald and Melania.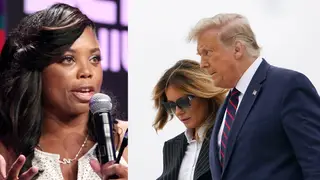 Jemele Hill, sports journalist and contributing writer for The Atlantic was one of many who shared thoughts on the breaking news that President Trump tested positive for coronavirus. She was also one of many who avoided wishing ill on him, but still maintained a critical perspective because of the president's failed response to the pandemic.
As America woke up Friday morning (Oct. 2) to news that Trump and First Lady Melania Trump tested positive for coronavirus, along with senior adviser Hope Hicks, there was major reaction among Black influencers, who have been closely watching both the pandemic and the 2020 election.

The developments come in a week of constant unexpected news about Trump. Those moments ranged from the bombshell report from The New York Times that he had not paid federal incomes taxes in 10 of the past 15 years, to the presidential debate that was largely panned as disastrous and whose most notable moment was the president's refusal to disavow white supremacists, and now a diagnosis of an infectious disease that has killed more than 207,000 Americans and more than 1 million people globally.
The diagnosis also comes just over a month before voters are set to cast ballots in the presidential election. Presidents have taken ill and even died in office before, but contracting a potentially deadly disease while campaigning is unprecedented.
It is unclear when Trump and the First Lady were exposed to COVID-19 or if they contracted it from Hicks. The White House says they will go into quarantine, but are currently not showing symptoms. Vice President Mike Pence and Second Lady Keren Pence tested negative for the virus, according to Reuters.
The president has held many rallies across the country in which masks were not being worn and social distancing was not being upheld, despite warnings from the CDC that those two measures can prevent the spread of coronavirus. Herman Cain, himself a former presidential candidate and supporter of Trump tested positive for coronavirus in July after attending a Trump rally in Tulsa, Okla., without a mask and died weeks later.
Which direction the presidential election will go is hard to predict. The White House has not indicated that Trump will change anything as far as his presidential duties, but if he cannot perform them by constitutional edict, they would automatically go to Pence. What would happen if he could no longer campaign for a second term is unclear.
Trump's challenger for the Oval Office, former vice president Joe Biden tweeted his wishes to Trump for a speedy recovery. According to CBS News, both Biden and his wife, Dr. Jill Biden, have tested negative for coronavirus.
His vice presidential running mate Sen. Kamala Harris, who is scheduled to debate Pence in the only vice presidential debate of the election season on Oct. 5, also sent her well wishes to Trump.