Aunt Jemima Gets Name Change After 131 Years Of Racist Imagery
Quaker Oats Company finally realizes in 2020 the name was offensive.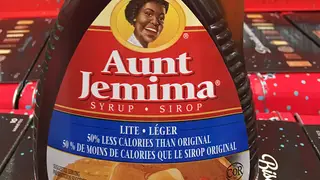 Aunt Jemima syrup and pancake mix, which was founded in 1889, has been using a image and look rooted in stereotypes that harken back to slavery. 
Now after 131 years of using racist imagery, Quaker Oats, the company that owns Aunt Jemima, announced the brand is getting a name change.
According to NBC News, Kristin Kroepfl, vice president and chief marketing officer of Quaker Foods North America, said in a press release,  "We recognize Aunt Jemima's origins are based on a racial stereotype. As we work to make progress toward racial equality through several initiatives, we also must take a hard look at our portfolio of brands and ensure they reflect our values and meet our consumers' expectations."
Kroepfl also stated the new packaging will start in the fall and a new name will be announced at a later date.
The original image of Aunt Jemimia was reportedly modeled after a former enslaved woman named Nancy Green in 1890. Below is one of the early (and extremely offensive) ads for Aunt Jemima. 
While the company hasn't announced the new name, Black Twitter users had some thoughts on renaming the brand Aunt Karen in tribute to the many white women who have gone viral for calling the police on Black people living their lives.