Young Woman Shares Video Of Her Tattoo Playing A Birthday Message From Her Late Grandmother And People Are In Tears
Sakyrah Angelique's sound wave design uses an app to play the sound of her grandma's voice.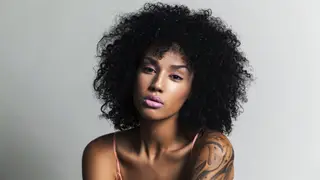 A Chicago woman recently captured the hearts of many after sharing a heartwarming video of her tattoo that uses an app to play the voice of her late grandmother when she holds her phone over it.
Sakyrah Angelique, 19, posted a video on Twitter of her using the soundwave tattoo, which was created from a voicemail her grandma left her just a month before she died, reported the Daily Mail Online.
The tattoo is of the waveform of Sakyrah's grandmother's recording, and by using the app Skin Motion, the tattoo is used to play back the audio file using image recognition.
The LA-based company is able to created waveforms up to one-minute long and the app uses a phone's camera to play the sound back. 
"They have a list of registered tattoo artists that are able to do this, so I found one that was near me. After he finished the tattoo, I couldn't believe that I finally got it done. Once he played the voicemail from the tattoo, my heart melted. I could not believe that the voice of my grandmother would forever be across my heart," Sakryah told BET News. 
Sakyrah's tattoo plays her grandma wishing her a happy birthday at midnight and saying 'love you'

"She meant so much to me, so to be able to have this for the rest of my life is the greatest thing that I could ever have," Sakyrah said. "I've only had the tattoo for a day now, so I have not played it much. I've been waiting until I had time alone to really sit and realize the beauty in what I have now."

Upon seeing the video, many people were taken by the emotional message

Some shared stories of their similar tattoos

On Instagram, Sakyrah said she'd been keeping the recording for three years before she got the tattoo

"I waited until now because I was still at a young age once she passed away, which was in 2015. It took me a while to finally accept her passing away, so it wasn't until now that I finally got the courage to do something in honor of her. I've held onto the voicemail for almost three years now trying to figure out what I would do with it. I create music on a regular basis, and I'm constantly seeing visuals of sound waves," Sakyrah told BET News.