Mendeecees's Mom Has Someting to Say About Her Son's Baby-Mama Drama
Judy has spoken.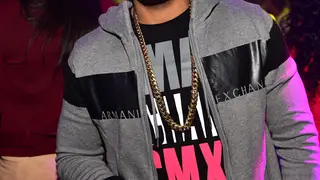 The drama between Mendeecees's "wife," Yandy Smith, and his baby's mother, Erika, reached epic proportions late last year, complete with conspiracies, spilling tea and receipts on social media. The incarcerated Love & Hip-Hop star even went so far as to make a statement from prison, telling his exes to quit attacking Yandy.
Now, there's a new voice in the mix. Mendeecees's mother, Judy.
"Why do people keep addressing the fact about the baby-mother's relationship? Six and 11 years — instead of addressing the fact that these kids need to be together?" she says in a video posted to social media. "This should have been addressed six years ago, and way beyond the situation now. It's so long ago, people done got married and had children that moved on, there's building houses, they've got business. People don't have a life, so why didn't they get a life between all this that was going on?"
While it seems Judy is #TeamYandy, she does go on to say, "I have nothing bad to say about any of the baby mother but ... it's ridiculous. I just think that at this point in life it's about the kids, their joy and happiness. They were together, they love each other, why stash that away just to prove a point who you were to somebody? That's crazy."
Mama Judy out here speaking the truth.
See how Yandy dropped a bomb on Mendeecees on Wendy Williams, above.