Hip Hop Legends Gather To Mourn DJ Kay Slay in Harlem
Hip Hop luminaries flock to the famed Apollo Theater in Harlem to pay tribute to DJ Kay Slay who died last week from complications due to COVID-19.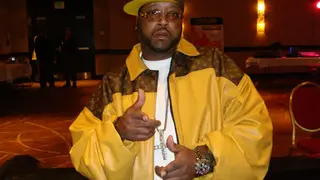 A memorial for DJ Kay Slay was held this weekend at the famed Apollo Theater on Sunday—exactly one week after the legendary DJ lost his battle with COVID-19.
According to a report from HipHopDX, Fat Joe, LL COOL J, Kool DJ Red Alert, Papoose, Melle Mel, 3rd Bass MC Pete Nice, Eric B., Busta Rhymes, Remy Ma, Van Silk, Art of Rap co-founder Mick Benzo and DJ Chuck Chillout were among the many hip-hop luminaries who attended the memorial alongside Kay Slay's family and friends.
The report notes that a large rose-colored photo of the former HOT97 host shared the stage with his glittering gold casket.
In a clip shared by HIpHopDX on Instagram, Grandmaster Flash & the Furious 5 founder Melle Mel who was close with Kay Slay, born Keith Grayson, took to the stage to share his memories. He said, in part, "He did that! Kay Slay, he did that! And he always kept me in the loop. But I didn't know that he was the same as me until a couple of days ago. And the thing that I want to convey to y'all, after all that was said and done, and after all that's going to be said and done about this great man, he put on a show. He had a job to do and he did his job. And what I'm asking y'all, Did y'all have a good time? Did you enjoy the show!? Did you enjoy the Kay Slay parade?!"
The audience roared in response.
The hip-hop legend spoke to the outlet after the service adding, "The fact is we did what we did and Kay Slay did what he did and he deserves all of us to come out, and that's what I did. He's gonna live on because we fly the same flag and it's called Hip Hop. Kay ain't never going nowhere. That's our brother."
Legendary hip-hop promoter Van Silk, one of DJ Kay Slay's closest friends, told DX that The Drama King's "contribution to hip hop is something we can not overlook. His legacy will be preserved at the Universal Hip Hop Museum respectfully. His estate is well run and organized by great people Kay Slay trusted."
Executive Director of Universal Hip Hop Museum Rocky Bucano also spoke to DX, saying, "Kay Slay was more than a DJ, he was one of the greatest cultural ambassadors of Hip Hop."