Keshia Knight-Pulliam Started A Rap Career, And It Began By Dissing Her Ex Ed Hartwell
She's come a long way from the days of playing Rudy Huxtable on "The Cosby Show."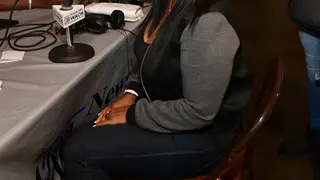 Known for her role as Rudy Huxtable in The Cosby Show, Keshia is also the ex-wife of Ed Hartwell, whom she divorced earlier this year. Now, she's apparently turning to music to get her frustrations out how that all ended up, among other things.
Her brother Kofa released a track called "Heat Rises 2," and Pulliam appears on the track and levels a diss at Hartwell.
"My baby daddy hit the switch up, I knew I should've got a prenup," she raps. Oh yeah, and Donald Trump gets some heat too. If you remember, Keshia appeared on Celebrity Apprentice back in the day.
"38 Years aint' enough," she raps. "I've been doing this longer than Donald Trump's hair's been messed up."
See all of what she had to say below.