NAACP To Move Its Headquarters To Washington D.C.
The nation's oldest civil rights organization has called Baltimore home since 1986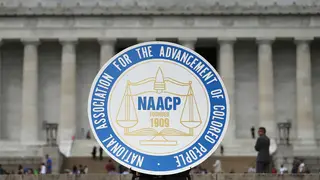 After being located in Baltimore, Maryland since 1986, the NAACP will move its headquarters to Washington, D.C.
According to Afro.com, the nation's oldest civil rights organization will be housed in the Frank D. Reeves Center of Municipal Affairs (Reeves Center) on the historic U Street Corridor. Beginning in 2025, the Reeves Center which is named in honor of Franklin D. Reeves,an acclaimed attorney who worked with the NAACP as a part of the team that litigated the Brown v. Board of Education case thar desegregated public schools, will be demolished and a new building be erected in place
D.C. Mayor Muriel Bowser confirmed the move in an official announcement on Thursday (June 22).
"As we welcome the NAACP to D.C., we are being intentional about redeveloping this site so that it meets the needs of our residents and moves us toward a more equitable future," Bowser said.
"This moment marks yet another pivotal step towards preserving the deep, historically Black roots of the U Street corridor," added NAACP President and CEO Derrick Johnson. "The NAACP is deeply appreciative of the hard work and thoughtful consideration that Mayor Bowser and her team have committed to this project."
"As we continue to echo the calls of Black America in the halls of power, headquartering our offices within our nation's capital will allow us to further our mission of affecting change on the issues that matter most to our community," Johnson continued. "We are encouraged by this partnership and are excited to call U Street home."
In addition to the NAACP's relocation, the move is a part of the Mayor's plan to redevelop the Reeves Center site in conjunction with the Office of the Deputy Mayor for Planning and Economic Development (DMPED). The Reeves CMC Venture was awarded one of the largest Equity Request For Proposal (RFPs) awarded by D.C.
"The Reeves Center is symbolic of D.C.'s resilience, and as we make our comeback – this is an opportunity to double down on our commitment to making our prosperity more inclusive and preserving the history and culture of our community," Bowser said.
No date was given for the NAACP's official relocation.