This Day in Black History: Nov. 9, 1964
Pepa of the female rap group Salt-N-Pepa was born in Kingston, Jamaica on Nov. 9, 1964.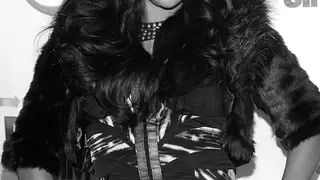 Sandra Denton, who would eventually gain fame as "Pepa" in the female rap group Salt-N-Pepa, was born in Kingston, Jamaica. Her family moved to Queens, New York, when she was a child. During her time studying nursing at Queensborough Community College, her career in hip hop began when she met Cheryl James in 1985, who would eventually be known as "Salt."
By 1986, they were joined by Deidra Roper, who was known as "Spinderella," in the role of DJ. The group released their debut album Hot, Cool & Vicious. They went on to release five studio albums as well as several greatest hits albums.
Salt-N-Pepa disbanded in 2002, several months after their Brand New album was released on Red Ant Records. The trio reunited for a performance on VH1's The Surreal Life. Pepa began to do a significant amount of acting, including an appearance in the HBO movie First Time Felon as well as a stint as Officer Andrea Phelan in the HBO drama Oz.

BET National News - Keep up to date with breaking news stories from around the nation, including headlines from the hip hop and entertainment world. Click here to subscribe to our newsletter. 
 (Photo: Dimitrios Kambouris/Getty Images)