Missy Elliott Tributes 702 Member Irish Grinstead In Touching Post
Grinstead passed away recently at the age of 43.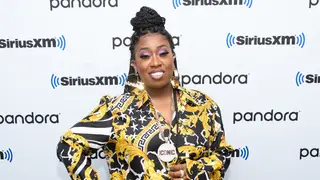 Missy Elliott is paying tribute to founding 702 member Irish Grinstead, who recently died at 43 from an undisclosed illness.
In a Twitter post, the Virginia hip-hop legend tweeted a picture of Grinstead during her younger years and the caption: "Irish May your beautiful soul Rest Peacefully in the arms of the Lord🕊️ A Multitude of prayers for the entire Grinstead family🙏🏾🕊️💔#702."
On Saturday (September 16), Grinstead's sister and fellow bandmate LaMisha broke the news of Irish's passing, writing in an Instagram post, "It is with great sadness that I have to let you know that my beautiful sister and friend has passed away this evening. She has had a long battle and she is finally at peace. That girl was as bright as the stars! She was not only beautiful on the outside, but also within. Sharing the stage with her was a joy I will cherish for the rest of my life! We, the family ask for prayers and respect for our privacy as we grieve an outstanding loss to our family."
Their fellow bandmate Meelah Williams also used social media to eulogize the singer. "Devastated & heartbroken 💔 I struggled with this post because to me this isn't real. ❤️‍🩹 There's a lot I want to say, but there's no way to say what your heart hasn't fully accepted. It's hard to acknowledge this is even happening. I know you're feeling better now and hugging your twin Orish which makes me smile 🥹 cus I know how much you missed her."
She continued, "You & I have known each other since we were kids and we've laughed, cried, celebrated, and everything in between which is why I just don't want to believe this. You'll always be my "IBG" & I still love you my forever lil sis!!! Rest easy #Irish."