Kourtney Kardashian Married Travis Barker In Las Vegas Just Hours After Walking The Grammys Red Carpet! [REPORT]
The couple reportedly wore their red carpet looks for the private wedding ceremony held at the One Love Wedding Chapel.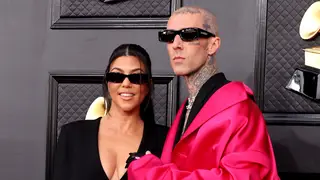 UPDATE (9:45 AM ET): TMZ reports, "a source at the chapel where they had the ceremony tells us they'll only perform it with a marriage license, but a source close to Travis and Kourtney tells us they hadn't gotten a license, which wouldn't make it legal."
---
Kourtney Kardashian and Travis Barker are officially married! According to People, the couple tied the knot shortly after making their red carpet debut at the 2022 Grammys, held in Las Vegas. The big news comes months after Barker proposed to Kardashian in Montecito, California.
The private wedding ceremony reportedly took place at 1:45 a.m. on Monday at the One Love Wedding Chapel, where the couple wore the same designer fashions from the star-studded award show.
"I didn't know who it was until they pulled up," One Love Wedding Chapel owner Marty Frierson revealed to the media outlet. "I advertise as 24-hours but they wanted to make sure I was still there. They paid and they requested Elvis Presley, that was mandatory. I called back 5 minutes later and was like, I got an Elvis, and there they were."
Frierson continued, "They came, got married, tossed the bouquet in the driveway, and danced to Elvis. They showed a lot love and had a lot of fun."
FYI: Kourtney Kardashian and Travis Barker confirmed their relationship status with an Instagram post back in February 2021. Since then, the lovebirds haven't stopped showing their PDA—even sharing a kiss on Sunday night's red carpet!