Throwback Thursday: Karen Bass, Community Organizer
Rep. Karen Bass knows how to get things done.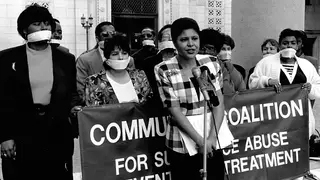 When Rep. Karen Bass (D-California) is on a mission, she doesn't back down. In 1990, she founded the Coalition for Substance Abuse Prevention and Treatment in response to the crack cocaine epidemic that had devastated south Los Angeles in the '80s. By 1991, the organization set its sights on problematic liquor stores that certain communities across the nation have long had to endure. But in this case, karma was a you-know-what, and when riots broke out in L.A. in 1992, 200 of the stores burnt down.
"So, then we led a campaign to prevent them from reopening and we won," Bass told BET.com. "This photo brings back a lot of very, very good memories. And the organization that I started is still going very strong."
BET Politics - Your source for the latest news, photos and videos illuminating key issues and personalities in African-American political life, plus commentary from some of our liveliest voices. Click here to subscribe to our newsletter. 
(Photo: Courtesy of Rep. Karen Bass)