Welcome Back? Tommie Lee Has Something To Say Upon Her Release From Jail
The reality star's double-arrest was pretty wild.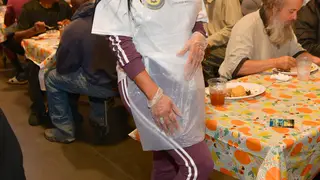 Tommie Lee is officially a free woman, again.
After being arrested two times over, following her initial arrest stemming from her slamming her daughter's head into a school locker, the reality star is out of jail and has taken to social media to issue a few words to the public.
As previously reported, the Love & Hip Hop star — real name Atasha Jefferson — was jailed twice in a matter of hours after assaulting her daughter at Griffin Middle School in Smyrna, Georgia.
She was eventually released after posting bond and was strictly ordered not to make contact of any sort with her daughter. Unfortunately for her, she violated the judge's order and called her daughter, which resulted in her second arrest, three hours later.
Upon her recent release from jail, the reality star took to social media to thank her friends, family and fans for holding her down while she was in the slammer.
"I just want to say thank you to everyone who prayed for me, wrote me, sent me money that I did or didn't need. Everybody who's supported me on social media," she said in the post that was briefly captured on Twitter.
In her Instagram story, she also extended her gratitude to her friend and Black Ink Crew star Sky who she shared answered her phone calls from jail.
"@flyyytattedsky Girl you Know you tha [goat emoji] #kits #commisary #neva missed a phone call she is my left titty Fareal."
While her release certainly serves as some positive news for Tommie, she, unfortunately, may be coming home to unemployment as it was previously reported that the Love & Hip Hop: Atlanta producers were heavily considering firing her from the franchise over child cruelty charges.