NLE Choppa Says Daughter Saved His Life
The Memphis rapper revealed how he was "contemplating suicide."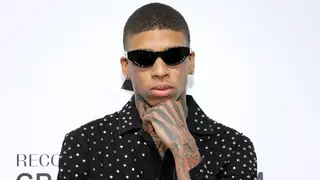 NLE Choppa is doing some heavy reflecting about his life and family.
The Memphis rapper took to his Instagram account on Saturday (May 27) to post a tribute to his two-year-old daughter, Clover, who he claims changed his life and arrived in this world during a period when he was "contemplating suicide."
"This is my 'ANGEL,'" he captioned the post. "Clover Literally Changed My Life, The Reason My Spiritual Awakening Happened Cause I Knew Longevity In My Life Was Needed To Be In Yours. So Thank You Clover For Maturing Me Faster Than Anything That's Ever Happened To Me In LIFE.
"You Are The Reason I Want Better, You Are The Reason I Love, You Are The Reason I LIVE," NLE continued. "Before You Was Here I Was Contemplating Suicide, When I Found Out You Were Conceiving You Gave Me Something To Not Only Look Forward To, But Something To Live For!"
The rapper added: "Thank You For Saving My Life My Little Goddess, IM FOREVER IN DEBT TO YOU, I Owe It All To You. Your The Reason I'm Still Here. SHE TURNS 3 NEXT MONTH."
In April, NLE Choppa released his latest LP Cottonwood 2, which is the sequel to his 2019 debut EP Cottonwood. In February, he spoke with BET about the project.
"Cottonwood 2 is one of those projects where it's going to solidify me even though I'm kind of solidified already," he explained. "At the least, it'll solidify me even more. It's like the proof is all in the pudding throughout the album. I got a bunch of features on there from some good guys. I don't want to give too much of the scoop up but it's the best music that my fans will have heard to date."
See NLE Choppa's Instagram post below.