Rev. Al Sharpton To Eulogize Jacksonville Dollar Store Shooting Victim At Funeral
The funeral for Angela Michelle Carr will be held on September 8 at the Bethel Baptist Church in Jacksonville, Fla.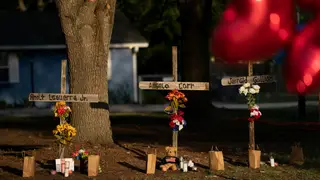 Prominent civil rights attorney Ben Crump,  will also be in attendance for the funeral service scheduled to take place in Jacksonville on Friday (Sept. 8). Crump is the attorney for the Carr family.
Additionally, the other victims, Anolt Joseph "AJ" Lagurerre Jr., 19, and Jerrald De'Shaun Gallion, 29, will be funeralized on Sept. 8 and 9, respectively, also in Jacksonville.
"He decided to open fire at a Dollar General while we were marching against hate in Washington," he said. "Nineteen buses came here from Florida … including one from Jacksonville, and while these Floridians were still on the road, there was a killing in their home state."
In the aftermath of the tragic mass shooting, Dollar General announced that it will donate more than $2.5 million to nonprofit organizations in an effort " to heal the traumatized community."
"The entire DG family continues to mourn the senseless, hate-driven loss of life that took place last weekend," Jeff Owen, CEO of Dollar General said in a statement at the time. "Our focus continues to be on supporting the victims' families, our employees, and their loved ones, alongside how we can best support and stand with the greater Jacksonville community. The actions we are taking are in an effort to begin to heal together."
The Department of Justice is currently investigating the shootings as hate crimes.