R. Kelly Found Guilty On Multiple Charges Of Sex Crimes
The disgraced singer was convicted of child pornography and enticing minors for sex.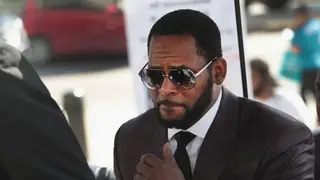 R. Kelly has been found guilty of child pornography charges in his federal trial in Chicago.
According to CBS News, the disgraced singer was found guilty of three child pornography counts and three counts of enticing minors for sex. However, the 55-year-old was acquitted of seven other charges, including obstruction of justice and conspiracy to receive child pornography. His two co-defendants and former associates, Darrell McDavid and former assistant Milton "June" Brown were acquitted of all charges.
The charges stemmed from the state trial in Chicago, where he was acquitted in 2008. In 2002, Kelly faced 21 counts of making child sexual abuse videos. Police and the FBI verified the authenticity of one recording, but a jury in 2008 could not prove that the person in the recording was a minor, and Kelly was set free. His co-defendants, McDavid and Brown, were accused of fixing the 2008 state trial by intimidating and paying off witnesses.
This is Kelly's second conviction this year. In June, he was sentenced to 30 years in New York after being convicted of racketeering and sex trafficking.
R. Kelly has maintained his innocence.