R. Kelly Sentenced To 30 Years For Racketeering and Sex Trafficking
After a fall from the heights of fame, the disgraced R&B singer will serve much of the rest of his life for his crimes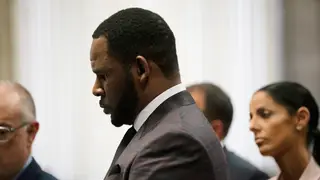 A federal judge has sentenced R. Kelly, who had been one of the most visible stars in music, to 30 years in federal prison, after being found guilty of sexually abusing a series of women, girls and boys.

Kelly, 55, was in federal court in Brooklyn, N.Y., for the sentencing on the nine counts he was found guilty of in September 2021 including racketeering, transporting his victims across state lines for "immoral purposes," a violation of the Mann Act.
Judge Ann Donnelly said while sentencing Kelly that ""the public has to be protected from behaviors like this." 
She asked him if he would like to make a statement, which he declined.  "Yes your honor, that is my wish."

Prosecutors sought at least 25 years behind bars for Kelly, saying that he is a predator who used his celebrity to entice women into sexualy trysts with him, then psychologically and physically abusing them for years.
During the sentencing hearing some of his victims were allowed to make statements and they each blasted him for his crimes.
"You made me do things that broke my spirit. I literally wished I would die because of how low you made me feel," one woman said to him, according to the Associated Press. "Do you remember that?"
Another, who said Kelly victimized her at age 17 after a concert, was ashamed to speak out in years past, but has now found her voice. 
"I was afraid, naive and didn't know to handle the situation," she said.   "Silence is a very lonely place." 
It is unclear how many people were his victims but the majority of his accusers were primarily Black women and girls,  according to The New York Times, although most of their identities have been kept private.
"He continued his crimes and avoided punishment for them for almost 30 years and must now be held to account," prosecutors wrote last month in a legal filing ahead of the sentencing. But Kelly's defense team has been in shambles as it went through stages of infighting. He fired his lawyers earlier in 2022 and his new lawyers filed a motion for a new trial claiming the infighting left them unprepared to give him a proper defense.

"Energy, resources, and time that should have been devoted to preparing for trial were expended battling each other until two of the defendant's more experienced attorneys were granted leave to withdraw," his new lawyer Jennifer Bonjean wrote in a brief, according to Billboard. Defendant was left with a disjointed, unprepared trial team and no singular defense strategy."
After the sentencing, Bonjean, who is expected to appeal, said that Kelly rejected being portrayed as a "monster."
"He accepts that he is a flawed individual," she said, "but he is not this one-dimensional monster that the government has portrayed and the media has portrayed."

It was a precipitous fall from grace and the heights of fame for Kelly. The Chicago-born singer spent his early career with the group R. Kelly and Public Announcement, released on Jive Records, but it was the only album he did as part of the group. In 1993 he embarked on a solo career, releasing his first solo album 12 Play, once regarded as a bonafide classic. He followed that up in 1995 with his self-titled second studio album R. Kelly. Both albums won critical accolades and each spent weeks at the top of the Billboard Hot 100 and R&B charts. According to iTunes, 14 of his studio albums reached the Top 10 Billboard 200. 
His career reached some of its greatest popularity with the release of his signature hit "I Believe I Can Fly" from the soundtrack of the 1996 film Space Jam, for which he won three Grammy awards, and the music serial "Trapped In The Closet," along with collaborations with several other R&B artists.
Today, however, due to the multiple allegations of sexual abuse that eventually emerged against him, few if any radio stations will play Kelly's music, although it is still available for sale online.
Still, allegations of sexual impropriety have followed him since the late 90s.
He was illegally wed in 1994 to the late R&B singer and his protege, Aaliyah. That marriage was annulled in 1995. She was killed in a plane crash in the Bahamas in 2001. After ending the marriage to her, a series of accusations began to spring up and he was the constant target of civil suits and criminal indictments in Chicago. In a 1996 case, he was sued by a teenage girl in Chicago who claimed he was having sex with her at 15. In a 2001 former intern with Epic Records, who said he induced her into a sexual relationship. Those cases were settled out of court, The New York Post reports.

Other cases involve Kelly allegedly videotaping his sexual encounters with women for which he was also sued. Those were also settled out of court for undisclosed sums and non disclosure agreements, according to several published reports.

In 2002, Kelly faced 21 counts of making child sexual abuse videos, some of which found their way to the bootleg circuit. Police and the FBI verified the authenticity of one particular recording, but a jury in 2008 could not prove that the person in the recording was a minor and Kelly was set free.

In 2017, several women accused Kelly of holding them against their will in a "sex cult." The women allegedly sought help in their careers from Kelly but he allegedly wrangled control of their lives, telling them when they could eat, sleep, how to dress, when to bathe and cut off contact with their families. Two women spoke to the media about being held by Kelly. One of them, Jerhonda Pace, who was 15 when she met Kelly, broke a non-disclosure agreement to describe her ordeal.

"I didn't have anybody to speak up on my behalf when I was going through what I was going through with him. He's brainwashed them really bad, and it kind of reminds me of Charles Manson," she told Buzzfeed in 2017.

This all led to the social media movement #MuteRKelly and the production of the Lifetime network documentary Surviving R. Kelly in which several women who claimed they were victimized by him told sordid stories of abuse at his hands. Through all this, Kelly continued to perform and release music, despite the growing body of evidence against him.

The airing of the documentary led to charges in Chicago against Kelly of 10 counts of sexual abuse. To publicly deny the allegations, Kelly agreed to sit down with CBS This Morning Host Gayle King, an interview that became infamous with Kelly's behavior seemingly bordering on manic.




Prosecutors eventually charged Kelly with 11 more counts of sexual assault and abuse of a minor. But his problems mounted when he was given federal charges in both New York and Illinois. The combined allegations accuse him of nine counts, under RICO statutes, of transporting underage girls across state lines for illicit sexual purposes, producing sexual images of children along with conspiracy to destroy evidence and bribing witnesses. Kelly pleaded not guilty to the charges.

On Sept. 27, Kelly was found guilty on all nine counts. He was set to be sentenced in May, but that was delayed until June 29. But his time in court is not over. Kelly still faces state charges in Illinois and Minnesota, as well as more federal charges in Chicago. A trial there is set to begin on Aug. 15.