Obama Taps Rep. Mel Watt to Lead Federal Housing Finance Agency
President Obama nominates North Carolina Rep. Mel Watt to head the Federal Housing Finance Agency.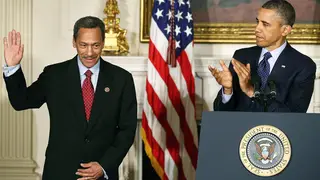 The North Carolina Democrat, who sits on the powerful House Financial Services Committee, has served in Congress for the last two decades. If confirmed, Watt will replace Edward DeMarco, the agency's acting director for three years.
"Mel has led efforts to rein in unscrupulous mortgage lenders, he's helped protect consumers from the kind of reckless risk-taking that led to the financial crisis in the first place, and he's fought to give more Americans in low-income neighborhoods access to affordable housing," Obama said of Watt's 20 years on the financial services panel. "[He] understands as well as anybody what caused the housing crisis. He knows what it's going to take to help responsible homeowners fully recover, and he's committed to helping folks just like his mom, Americans who work really hard, play by the rules day in and day out to provide for their families."
During his tenure, DeMarco faced a good deal of criticism from Democratic lawmakers for not working more forcefully to stem the rising tide of foreclosures during the financial crisis. In addition, they charged, he refused to implement a White House-backed plan that would allow homeowners who owe more on their mortgage loans than their properties are now worth to write down the loan principal.
Doing so, Rep. Elijah Cummings has said, could help thousands and perhaps millions of minority homeowners who were most victimized during the crisis because of predatory lending practices.
Earlier this year, Cummings, ranking Democrat on the House Oversight Committee, and 45 other lawmakers in a letter called on President Obama to replace DeMarco with someone "who is ready and willing to implement all of Congress' directives to meet the critical challenges still facing our nation's housing finance markets."
Today, he praised the choice of Watt to head the FHFA.
"Congressman Watt has deep expertise in housing policy and a record of distinguished service on the House Financial Services Committee," Cummings said in a statement to BET.com. "He will be an excellent director for FHFA."
But confirmation could be difficult for Watt because of ongoing Republican opposition to the principal write-down plan, which they say would encourage homeowners to default on their loans and cost taxpayers money. In 2010 they blocked an earlier choice who ultimately withdrew his name from consideration. If they do so again, the president could put Watt in place as a recess appointment.
"I'm going to go ahead and thank the Senate now for what I'm sure will be a speedy confirmation process," Obama said with a wink in his eye, so that Watt and Tom Wheeler, whom he nominated today to head the Federal Communications Commission, "can get to work right away."

BET Politics - Your source for the latest news, photos and videos illuminating key issues and personalities in African-American political life, plus commentary from some of our liveliest voices. Click here to subscribe to our newsletter. 
 (Photo: Mark Wilson/Getty Images)