Mobb Deep's Havoc Disses Prodigy Via Twitter
Havoc unexpectedly lashes out at his bandmate, calling him gay and challenging him to a fight.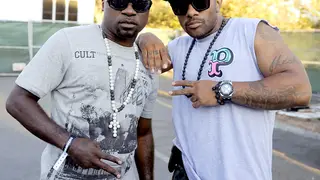 Mobb Deep's stuck together through prison bids, label drama, bloody rap beefs and much more. But the legendary Queensbridge twosome's two-decade run may be coming to an end, at least if the Twitter page of Havoc, one half of Mobb, is any indication. For the last several hours, Havoc has been tearing into his bandmate, Prodigy online, accusing him of being gay and challenging him to a fight, among other things.
The tirade started early today, April 9, when Hav sarcastically tweeted, "Congrats to P @prodigymobbdeep and @rihanna for getting married soon!! @rihanna please confirm!"
Rihanna hasn't commented on the matter, but Havoc sure had a lot more to say. "@prodigymobbdeep we got a meeting, lets see if u built to show ur face," he wrote soon after. "Prodigy a b---h and I'm gonna show it."
But things took an even wilder turn when Havoc accused P of having homosexual relations during his three-year prison bid in upstate New York, which ended last March. "I got n----- in the jail system to to back up that prodigy was f------ homes in jail," Havoc wrote. "prodigy prove me wrong! please...i have a big announcement.... and n----- that was locked wit him know the truth."
No word on Hav's "big announcement," but he wasn't done, saying he smacked Prodigy and threatened him with further violence. "I had to smack P, ask him," he wrote. "LETS DO A ONE ON ONE!!!!! ME AND P!!! HE SO BUTTTT HE WILL AVOID!!!!"
Hav went on to call Prodigy a "Long Island b----" (P was partly raised in Long Island), accusing him of "hiding" and questioning his Queensbridge credentials.
There's no word on what sparked the drama, but sources close to the rappers have confirmed to BET and other sites that the tirade is indeed the real thing. "nothing hacked P homo y'all," Havoc wrote. "no hack this havoc."
Prodigy has yet to comment. Temperature's rising, indeed.
UPDATE: HAVOC ISSUES STATEMENT DENYING TWEETS
"Just getting back into NY after my Easter weekend with family and friends in Jersey. I left my phone at a gas station yesterday evening while on my way to Jersey after a glorious Knick's game.  To all Mobb Deep fans: it's business as usual! It's Mobb Deep all day!!! My twitter account @THEREALHAVOC will be down until further notice. The only other real account is @PRODIGYMOBBDEEP. Ignore the rest. One!"
BET.com is your #1 source for Black celebrity news, photos, exclusive videos and all the latest in the world of hip hop and R&B music.
(Photo: Tim Mosenfelder/Getty Images)