Raymond Santana And Deelishis Get Married In Beautiful Georgia Wedding
The 'Flavor Of Love' star and exonerated 'Central Park Five' member tied the knot.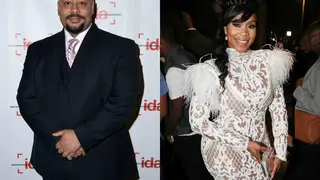 Congratulations are in order for Raymond Santana and Deelishis! The couple tied the knot on Saturday in Georgia, six months after they got engaged, in December 2019.
Santana, one of the exonerated men from the "Central Park Five," shared photos and video from their special day on Instagram. His bride, Flavor Of Love star Deelishis, wore a beautiful white lace and tulle gown with a floor-length veil.
Looks like the reception was lit! Watch the Santanas cut up on the dance floor in the adorable video, below:
Real Housewives of Atlanta star Kandi Burruss was among the attendees and shared an Instagram photo with the happy couple. "Congratulations @santanaraymond & @iamsodeelishis!!!!! I'm so happy for y'all & I'm happy to say that I had a little something to do with this love connection! ❤️❤️," she wrote.
The couple, who both have children from previous relationships, confirmed they were dating in October and announced their engagement two months later, in December 2019. Deelishis, 42, is best known for appearing on VH1s Flavor Of Love. Santana, 45, was one of five men  — Korey Wise, Yusef Salaam, Antron McCray, Kevin Richardson and Santana — falsely convicted of raping a woman in New York City's Central Park in 1989. Collectively, they were known as the Central Park Five.  In 2002, their convictions were vacated and they have since received a settlement from New York City of more than $40 million.