BET Awards 2022: Diddy is Honored with the Lifetime Achievement Award
Several of music's biggest stars came out to honor the legendary music mogul.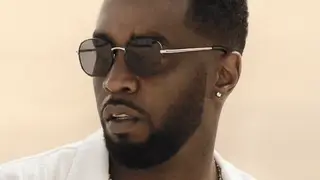 Bad Boy Records founder and musical mogul Sean "Diddy" Combs is this year's recipient of the prestigious Lifetime Achievement Award. The distinguished honor was presented by Grammy Award-winning musician Kanye West and Babyface at the BET Awards 2022 hosted by award-winning actress, writer, and producer Taraji P. Henson live from the Microsoft Theater in Los Angeles. The esteemed award recognizes industry giants who have not only significantly shaped culture through their extensive careers but have also been transformative leaders that consistently inspire generations by setting a true standard of excellence.
Diddy has contributed so much to the business not only through his own effort but through the acts he's discovered and produced over the years; many of home took the stage to honor the icon.
Legendary r&b group JODECI delivered an unforgettable performance of their hit single "Come & Talk to Me," while our Queen of Hip Hop and R&B, Mary J. Blige, took us back to 1994 with a sultry rendition of her Diddy-produced track "I'm Going Down." There were so many moments and we've got them all captured below. Check it out.
Jodeci

Jodeci took the stage for a performance of their r&b hit single "Come & Talk to Me" from their  1991 debut album Forever My Lady, produced by the legendary Diddy.  

Mary J. Blige

Queen of Hip Hop and R&B Mary J. Blige returned to the BET Award stage after winning the "BETHer Award" for her fourteenth studio album Good Morning, Gorgeous for a special performance of her song "I'm Going Down," one of dozens of records throughout the years produced but iconic music executive Diddy.  

Diddy presents Bad Boy Records

Diddy has always known as a true showman, paying close attention to details when it comes to a performance. His musical tribute at tonight's ceremony proved to be no different as a slew of former Bad Bad Records artists including rapper turned Belizean politician Shyne, The Lox, Lil Kim and Busta Rhymes, who joined him for medley of hits such as "Victory," "Bad Boyz," "I Need a Girl," and "Pass The Courvoisier Pt.II" respectively. 

Bryson Tiller also performed alongside Diddy for their new single "Gotta Move On"

Diddy honors the late Kim Porter

Diddy closed out his epic musical tribute honoring those we've lost including ex-girlfriend, model, and mother of his children, Kim Porter. Following a heartfelt video tribute, Diddy gave an emotional performance of "I'll Be Missing You" featuring singer Faith Evans with a special surprise appearance from BET Awards performers Maverick City Music choir. Porter passed away unexpectedly from lobar pneumonia in 2018. She was 47-year-old. 

Kanye West and Babyface present Diddy with the Lifetime Achievement Award

Grammy Award-winning musicians Kanye West and Babyface both took the stage to recognize the man of the honor, sharing their personal experience with the music mogul who has inspired many throughout his 30+ year career and continues to be a role model.  

Diddy pledges $1 million to Howard and Jackson State University

While accepting his "Lifetime Achievement" award Diddy pledged to donate $1 million to his alma mater Howard University. The successful businessman also pledged another $1 million to Jackson State University to assister former NFL star and coach Deion Sanders.